Behind the scenes: 3D printing Canada's aviation history
With the support of the Ingenium museums, I recently designed this 3D-printable model of one of the most historically important aviation artifacts in Canada. The project involved several processes, including 3D scanning, computer assisted design (CAD), and fused deposition modeling (FDM) 3D printing.
The subject of this project was the Curtiss "Number 3" engine that resides in a display case near the entrance of the Canadian Aviation and Space Museum in Ottawa. The water-cooled V8 engine was first assembled in October of 1908 at the workshop of American inventor and manufacturer Glenn Curtiss in Hammondsport, New York. In February of 1909, it propelled the A.E.A. Silver Dart aircraft on the first powered flights in Canada over the ice of Bras d'Or Lake in Cape Breton, Nova Scotia. It also powered several of the other craft created by Alexander Graham Bell's Aerial Experiment Association (AEA).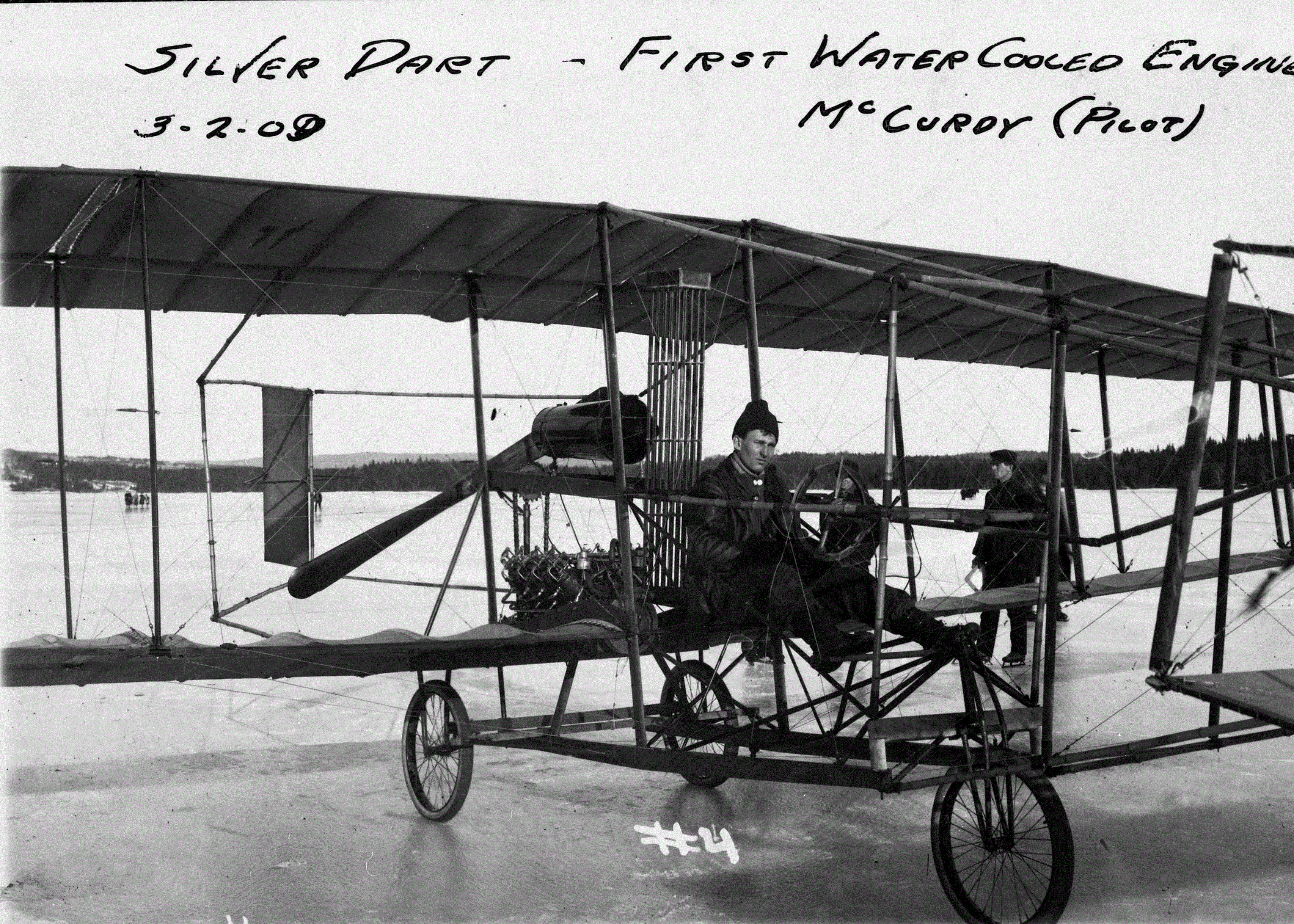 Photo Credit
Ingenium Photograph CAVM-15495
The experimental Silver Dart Aircraft with its pilot and AEA member John McCurdy (1886-1961). This photograph was taken days after the first powered flights in Canada.
The engine is a unique experimental prototype. It was heavily modified as the AEA's members struggled to get it working reliably. It was later sold for use as a backup engine on a fishing schooner. The ship sank, and it wasn't until the late 1930s that the engine was recovered from the Atlantic. The surviving artifact is incomplete and heavily deteriorated. Its drivetrain has been modified to adapt it to the ship. Its final form beautifully reflects its journey through the landscape of Atlantic Canada.
Photo Credit
Erich Weidenhammer
The Curtiss Number 3 engine, 1908, artifact no. 1967.0512. The original Curtiss engine and full scale replica of A.E.A. Silver Dart (artifact no. 1967.0629) are both on permanent display at the Canada Aviation and Space Museum, Ottawa.
Photo Credit
Erich Weidenhammer
Ingenium Museums Technician Jonathan Cousineau and Conservator Carlile Sea scan the engine. Note the reflective stickers on the surface of the artifact.
The Scanning Process
On October 22, 2019, well over a century after the engine was first run, members of the Ingenium conservation team scanned the engine. They used a Creaform Handyscan 700, a laser-based 3D scanner to generate a precise geometric representation of the artifact's shape by tracking a pattern of reflective stickers on the artifact's surface.
This mesh was then imported into Autodesk Fusion 360 CAD design software where it was used as a reference for creating a printable model of the engine. During this process, my goal became to represent the engine as it appeared during its historic flights in February of 1909. This was challenging because important components, now missing from the engine, are barely visible in archival photos. Aspects of the final model, notably the gear-driven water pump, are the product of informed guesses.
Photo Credit
Erich Weidnehammer
3D Print Aviation History
At left, parts of the model were arranged on the build plate of an FDM printer. The artifact's shape is very complex, so the model required careful design and testing in order to be successfully printed on a consumer-level 3D printer.
Go to Thingiverse to find out more and to download this model.
Photo Credit
Erich Weidenhammer
The original scanned mesh (right) imported into Autodesk Fusion 360 software and rendered alongside the CAD model with its recreated parts (left).
Emerging Technologies
Reflecting on emerging technologies such as 3D scanning, 3D printing, and virtual reality, it seems worthwhile to think beyond straight-forward duplication of artifacts into virtual space or other forms of digital copying. The rich "materiality" of an artifact—the quality of its manufacture and subtle texture of its materials, the accumulated wear from age and use, the way that it feels and smells—are challenging to replicate. In many ways, artifacts speak for themselves.
New technologies can be useful for extending our interpretation of artifacts, especially when used alongside other media such as archival documents, photographs and technical drawings. I hope that this model presents aspects of the engine that aren't evident in the surviving artifact. As a researcher, I learned things through this design-oriented process that I would not have through a hands-off investigation. Figuring out the likely location and configuration of missing parts deepened my understanding of the engine's design and manufacture.
Finally, I believe that model making is a valuable medium for both research and story telling. Model making has historically been one of many activities subtly (and not so subtly) funneling young men toward careers in engineering and technology. In recent years, the maker movement has made many aspects of model making more accessible and much more inclusive. Affordable 3D printers have played an important role in that process by providing a way to sharing objects within a diverse community of makers. Those same techniques and communities can help us share ideas about our technological history.
---