Days
Wednesday
Thursday
Friday
Saturday
Sunday
Times
Open 9 a.m. to 5 p.m.
Fee Description
Included with admission
Welcome to the museum's Demonstration Kitchen!
This space is dedicated to showcasing demonstrations of how foods are made, inspiring our visitors to try new recipes, and enhancing visitors' food literacy — the knowledge and understanding of how our food choices impact our health, our environment, and our economy.
Join Us in the Kitchen
Visiting the museum? The Demonstration Kitchen is located on the second floor of the Dairy Barn, right behind the Canola! Seeds of Innovation exhibition.
In this space, visitors can:
Watch food demonstrations
Learn seasonal food facts
Sample our in-house recipes (subject to product availability)
Discover the science behind cooking and baking
Find out what foods are produced by the museum's animals
For upcoming activities in the Demonstration Kitchen, check out the Events Calendar!
Try This at Home
Can't make it to the museum? Find inspiration from your home kitchen using the museum's online recipe collection! Cook with seasonal fruits and vegetables, discover traditional Indigenous dishes, bake a treat using Canadian maple syrup…and much more!
Featured Recipes
Has the spring weather inspired you to turn over a new leaf in the kitchen? Try lightening your diet with alternative forms of protein, such as chickpeas and blue spirulina!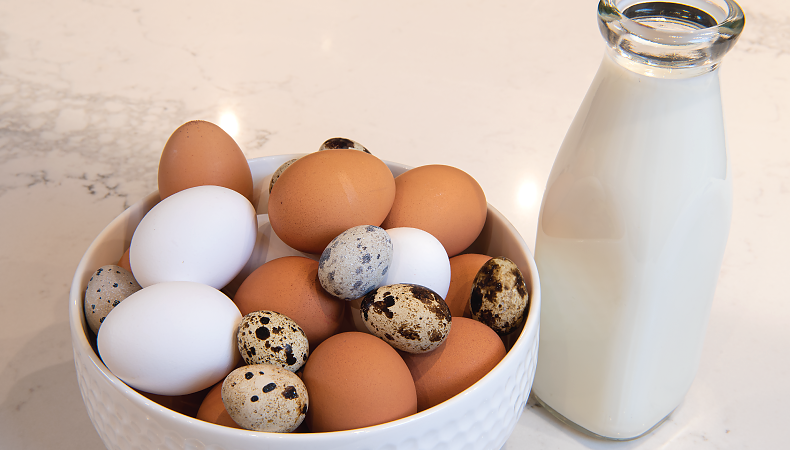 Food from the Museum's Animals
Milk
The museum is the world's only working dairy farm in the heart of a capital city! Currently, we are milking a total of 48 cows, including seven different breeds: Holstein, Ayrshire, Jersey, Brown Swiss, Milking Shorthorn, Guernsey, and Canadienne. Each of our cows produce between 16 L and 40 L of milk every day.
Eggs
Did you know that both chickens and quails lay an egg every day? Coturnix quails lay beautiful speckled eggs, while chickens lay different coloured eggs depending on their breed. Both eggs are highly nutritious. They contain vitamins A, D, E and B12 and a number of minerals; all play a role in maintaining good health and are an excellent source of protein.
Eggs are wonderful for breakfast and can be hard or soft boiled, fried, scrambled, poached or turned into a scrumptious omelette! Being of smaller size, quail eggs are ideal when boiled for a snack or added to a salad or soup.
Chicken eggs are so versatile and a staple in a baker's home. They play a very important role in baking, are key to adding richness to recipes, and help to emulsify and bond ingredients together.
Baker's tip: When baking, always choose large eggs. They are just the right size to balance the richness and flavour of an egg yolk and the water and protein content of an egg white.
Meet Jamie Reardon, who works as part of the museum's Visitor Experience team. Mixing a passion for food with a generous dollop of creativity, she develops and tests most of the recipes featured in our Demonstration Kitchen and on our web site. You'll often find Jamie and the guide team prepping delicious food samples for our museum visitors to taste.