Ingenium celebrates #LibraryShelfie Day from home in 2021
Happy #LibraryShelfie Day 2021!
Founded in 2014 by the New York Public Library, Library Shelfie Day is celebrated on the fourth Wednesday of January. It's a day for bibliophiles to pose and promote the things they love on social media, along with the hashtag: #LibraryShelfie!
Once again, Ingenium staff wanted to share some "shelfies" with you. This year we're doing things a little differently than we did last year. Two of the photos below show the realities of our library staff's home work environments. Ingenium's two library locations have been closed to the public since the early days of the COVID-19 pandemic, but we continue to answer questions from the general public by phone (343-548-4368) or by email (library@IngeniumCanada.org). The Library catalogue is always available online, for those who want to plan a future visit when we are able to reopen safely.
In certain urgent cases, library staff have been able to provide Ingenium colleagues with access to the collections, but in general we have been limiting the circulation and use of library materials as a precautionary measure to fight the spread of COVID-19. When a book or piece of trade literature is consulted by staff, the piece is isolated for a period of time as indicated in the recommendations made by the REopening Archives, Libraries, and Museums project.
Below you'll also find some "shelfies" taken in the home offices of a few of our library-loving Ingenium colleagues. It's interesting to see what books our staff have purchased for themselves; some are reference books bought at some point in their career, and kept at home to use outside of office hours. Other books reflect personal pursuits and interests. These classics have come in useful during the pandemic, both as reference tools and as sources of inspiration.
Remember that these shelfies serve as reading recommendations as well. Join the fun and share your own recommendations with us on social media, using the hashtag: #LibraryShelfie
Photo Credit
Ingenium | Catherine Campbell
Librarian Catherine Campbell's home office
"This is my home office! There is no shortage of trade literature to catalogue, and these automobile brochures from companies such as Renault, Humber, and Holden are just the tip of the iceberg. When my eyes are tired from staring at the screen or trying to figure out the publication dates of the catalogues, I can just feast my gaze on the river view, and look forward to my next walk. The only thing missing is my colleagues."
~ Librarian Catherine Campbell
Photo Credit
Ingenium | Sylvie Bertrand
Library Services Officer Sylvie Bertrand's improvised standing work desk is an ironing board in front of a window. She has been cataloguing aviation-related trade literature while working from home.
"Improvisation is the new 'buzz word' during this pandemic and working from home. An ironing board will do the trick! I can work standing or sitting, with a nice view from my window."
~ Library Services Officer Sylvie Bertrand
Photo Credit
Ingenium | Renée-Claude Goulet
Science Advisor, Canada Agriculture and Food Museum, Renée-Claude Goulet
"My personal library is rather eclectic, but it does contain a few reference books! This year is the International Year of Fruits and Vegetables, so I have been coming up with ways to teach people about the fascinating science behind our food. Naturally, I reached for La vie cachée des fleurs, which belonged to my grandmother and is where she kept old newspaper clippings and hand-written notes on garden care. It's been providing a lot of inspiration, with full-page images of, well, plant reproductive parts — the starting point of all our fruit, and of many of our vegetables (which are technically fruit if they came from a flower)!"
~ Science Advisor, Canada Agriculture and Food Museum, Renée-Claude Goulet
Photo Credit
Ingenium | Sharon Babaian
Curator of Marine and Land Transportation Sharon Babaian
"Henry Glassie's Material Culture, which is made up of a series of case studies, is a standard text for many students of material culture. For me, it's much more than that; I look to it for inspiration whenever I need to think about the many meanings of an artifact. There's poetry in the way he relates to and thinks about makers and users, materials and techniques. The simplest object is imbued with great meaning by the human act of creation and adaptation. He makes his readers look at all human-made objects with fresh eyes, helping them to find new meanings even in mass-produced objects."
~ Curator of Marine and Land Transportation Sharon Babaian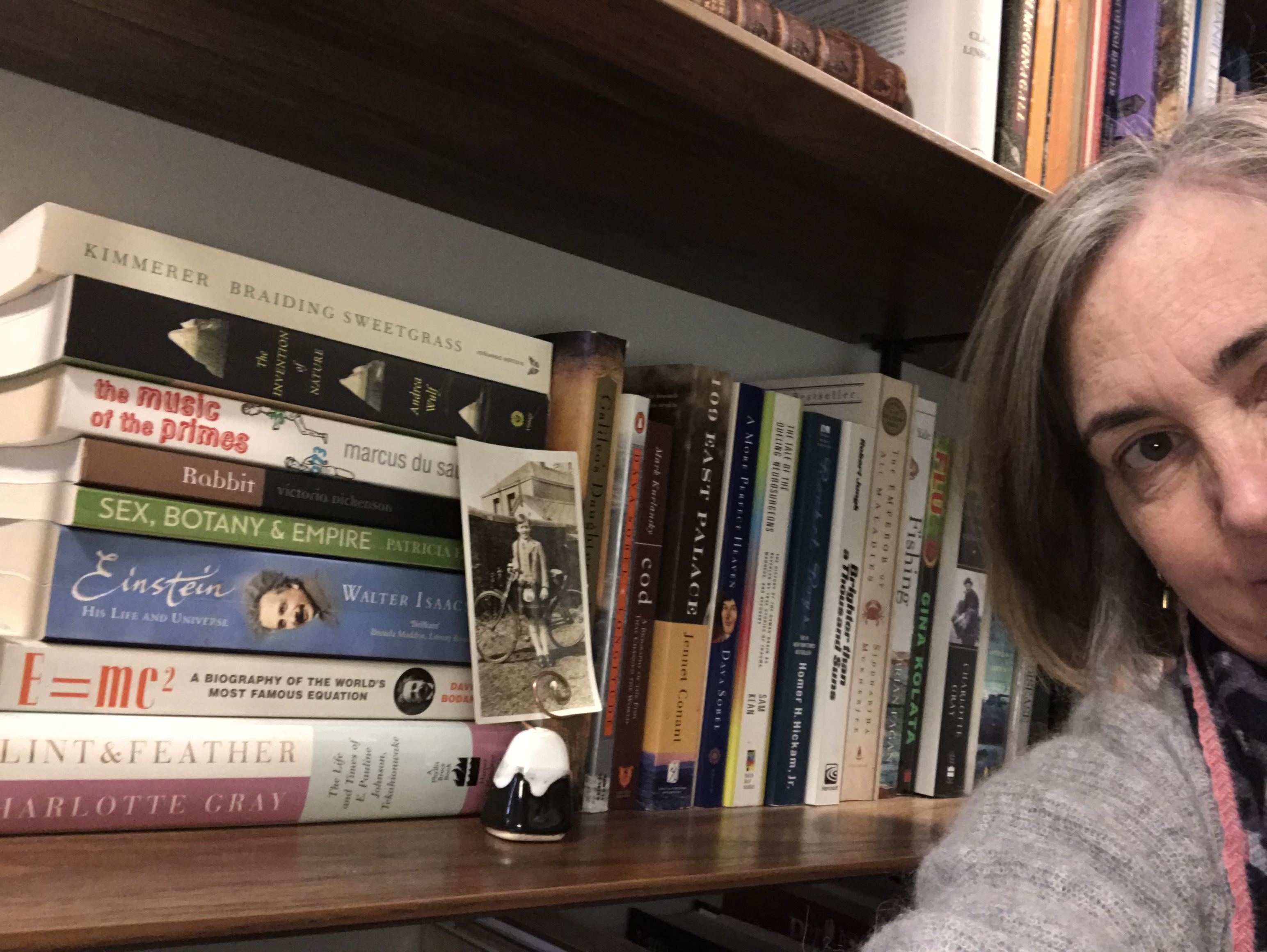 Photo Credit
Ingenium | Fiona Smith Hale
Chief Knowledge Officer Fiona Smith Hale
"My shelfie books are both about nature and the study of nature. The first book I plan to read is Braiding Sweetgrass by Robin Wall Kimmerer. This was one of the books on my Christmas wish list, and is top of my 'to read' pile. It is stacked on top of the second book I plan to read, The Invention of Nature: Alexander von Humboldt's New World by Andrea Wulf. I read and loved Ms. Wulf's book, The Brother Gardeners, so I have high hopes for this book. It's also on the book club list that my sons and I started this year (a COVID thing that I hope carries on beyond.)"
~ Chief Knowledge Officer Fiona Smith Hale
Photo Credit
Ingenium | Erin Gregory
Curator of Aviation and Space Erin Gregory
"My make shift bookcase (the top of a guestroom dresser) has a few new editions to my collection, but also a new copy of an old favourite, Right Stuff, Wrong Sex. It's the incredibly interesting story of the first female could-be astronauts in the American human space flight program."
~ Curator of Aviation and Space Erin Gregory