Inspiring educational resources
Ingenium - Canada's Museums of Science and Innovation
Canada Science and Technology Museum
Looking for some inspiration to jump-start learning at home or through your virtual classroom? The education team at the Canada Science and Technology Museum has gathered some of our favourite links to educational, playful, and hands-on resources — which can be done online or offline.
We've divided the resources into suggested age groups (but note there are overlaps):
We've also separated them into categories:
Science experiments
Computer skills
Creation challenges
Applications
Lectures and lessons
AGE 5+
SCIENCE EXPERIMENTS

Science Bob
Language: English
This website offers science-related content for kids. Check out the "Experiments" tab for some fun at-home science experiments using household items!
Steve Spangler Science — Experiment Library
Language: English 
The "Experiments" section of this website contains many different science experiments to try at home. Fun videos of the experiments enhance the how-to explanations. 
NASA Kids' Club
Language: English
This site hosts a variety of space facts, videos, and activities that can be done both online and offline.
OwlKids
Language: English
Tap into your inner scientist with these videos of science experiments to try at home! All of them are presented by kids, for kids. 
Les débrouillards — Expériences
Language: French 
From science experiments to tinkering activities to recipes, this website offers a variety of engaging, science-inspired activities.
Educatout 
Language: French 
This website contains a wide variety of hands-on science experiments that will introduce youngsters to the scientific method in a playful way.

COMPUTER SKILLS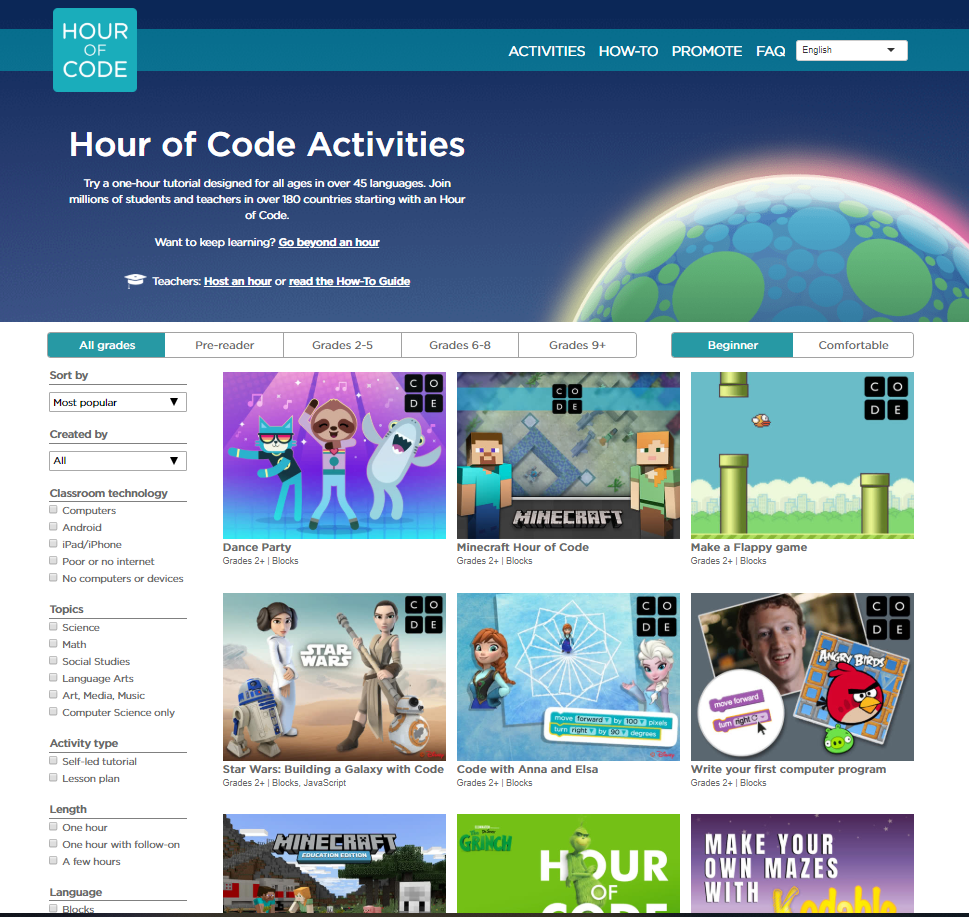 Hour of Code
Language: many languages available
Under the "Activities" tab, access a variety of games that teach users how to code, from simple programming languages such as block coding to more complex JavaScript or Python. There are even some unplugged activities that help you think in code — without a computer!  

CREATION CHALLENGES
Mission Protect our Oceans 
Language: English and French 
This design challenge, created by the Natural Sciences and Engineering Research Council of Canada, invites children to think of brilliant inventions on how to protect our oceans. They can submit a drawing of their invention prototype to the contest. It might even be turned into a real prototype!  
Color our collections
Language: English ...but since it's coloring it's pretty universal 
Through a special campaign earlier this year, libraries, archives, and other cultural institutions around the world shared free colouring sheets and books based on materials in their collections. Users are encouraged to download, print, and share their favourites!

APPLICATIONS
Stop Motion Studio 
Language: English, French (same as your device language)
Platform: IOS, Mac, Android, Windows
Description: There are many stop-motion animation applications to choose from. We find this one easy to use for most ages. A free version is also available. Create stop-motion animation using your LEGO, dolls, and other figurines. Build a device stand using cardboard or blocks to keep your camera stable.
Science ou magie
Language: French
Plastform: IOS and Google Play
This app is based on Radio-Canada's youth show, "Science ou magie." Through an Escape Room style play and a lot of trial and errors, players test and discover scientific concepts. 
AGE 8+ 
COMPUTER SKILLS
Typing Club
Language: many languages available
This website gamifies learning how to type on a keyboard! Kids learn to acquire the correct hands posture to effectively type on the keys and memorize their positioning.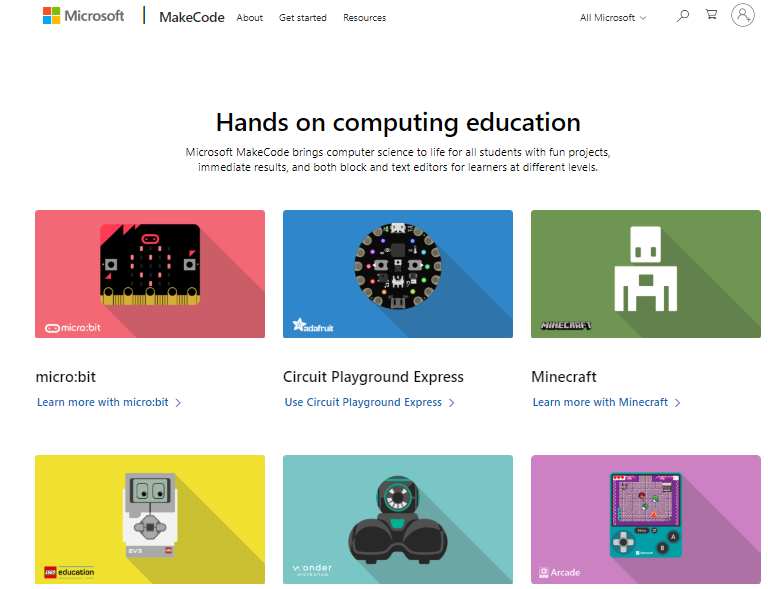 MakeCode
Language: English, French 
This online tool allows you to create custom codes for Micro:bit, LEGO Mindstorm, Minecraft, and more, for both digital or physical world application if you own the devices (not required). Work through the tutorials, then try your own projects!  
TinkerCad
Language: English
This web browser application teaches you how to build digital objects to print in 3D. Tutorials are available for beginners. Not only are these helpful for learning how to use the software options, but also for learning how to think in a 3D space. Note: registration is required.
Scratch 
Language: Multiple languages, including English and French (language toggle at the bottom of the page)
This web coding platform — which can also be downloaded to work offline — was designed to help children learn the basics of computer programming. They can create, code, and share their own stories, from simple to complex, while adding their own personality to their project. 

APPLICATIONS
Sketchbook by Autodesk
Language: English, French (language toggle at the bottom left of the page)
Platforms: IOS and Mac, Windows, Android
This program is designed for artists, and recommended for older children that are digitally proficient. Free for students, it allows them to create beautiful compositions with digital crayons, brushes, and other tools. Tutorials are available to get to know the software.   
NFB StopMo Studio
Language: English and French (same as your device language)
Platform: IOS
Developed by the National Film Board of Canada, this app offers many options for creating stop motion animated films.  
Science Journal by Google
Language: English
Platform: IOS, Google Play
Did you know that your phone and tablet are also scientific instruments? You can use it to measure acceleration, brightness, orientation, sound, and more. Find experiment ideas on the website; some are very straightforward, while others will ask you to build props.  

LECTURES AND LESSONS
Exploring By the Seat of Your Pants
Language: mostly English, but at least one has happened in French
Platform: Google hangouts
This web resource aims to inspire the next generation of scientists, explorers, and conservationists! Join live Google Hangout chats with explorers from around the world (and listen to recordings of past chats). This resource brings science, exploration, adventure, and conservation directly into classrooms through virtual speakers and field trips. Best part of all, it is and always will be 100 per cent free for classrooms everywhere!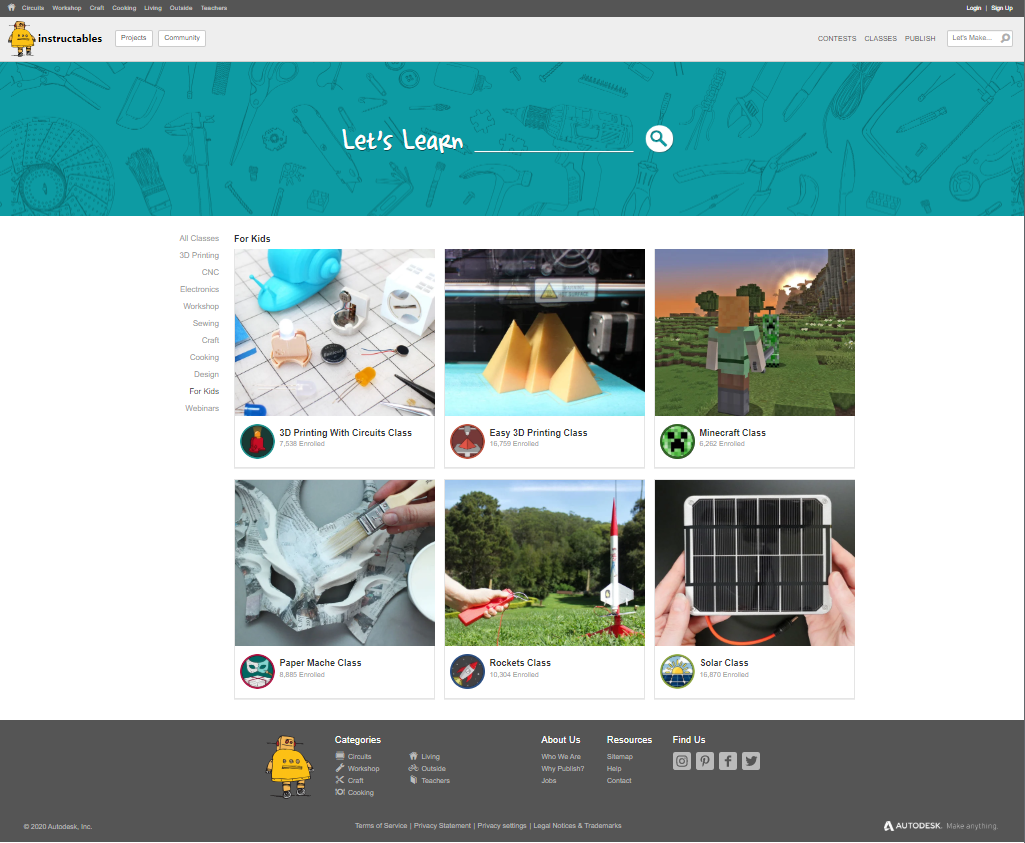 Instructables
Language: English only
This website encompasses thousands of step-by-step DIY projects on a variety of topics, from cardboard piggy banks to wearable electronics to baking! A wide variety of online classes are provided, divided into easy-to-follow lessons and ranging from subjects such as sewing and crafting to design and electronics.  
 
Mark Rober
Language: English only 
Former NASA engineer turned Youtuber, Mark Rober uses science and engineering for some hilarious, yet educational pursuits. He describes his scientific approach, the concepts at play, and highlights his trials and errors.  Some of his projects include "Liquid Sand Hot Tub", "World Largest Lemon Battery", and "Car Vs World Largest Trampoline". He started streaming live science classes, where a funny and intriguing question is answered through experimentation.  
Vite, pas vite 
Language: French only 
Two hilarious science communicators guide youth through surprising science experiences that are replayed in slow-motion. While watching, try hitting the pause button — and then discuss with your family what you think will happen!
Génial
Language: French only
This science quiz show will keep you on the edge of your seat throughout the episode. Try guessing the answer with the celebrity contestants who's team confront each other. Learn about diverse scientific phenomena in a fun and educational way. 
 
Do you have a link to add to our list? Contact us on Twitter: @SciTechMuseum @Exploratek_Cat