Preparing for your visit
Teachers may preview the museum free of charge at any time, by presenting proof of their teaching status at the admission desk.
Consider familiarizing your group with our site by downloading an informational document and a class presentation available below.
Download information for planning your visit
Download the orientation presentation for your class
Reservations
Please fill out our online form to schedule your visit. We recommend that you schedule your visit at least three weeks in advance.
Arrival
Your group should arrive at least 20 minutes prior to the scheduled start of your program. Upon your arrival, one of the museum hosts will come to your bus to greet your group. You will be escorted through the group entrance on the north side of the museum. The museum opens at 9 a.m. and programs start daily at 9:30 a.m.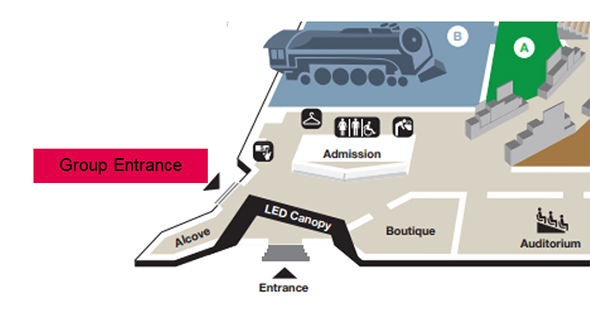 Payment
You will be asked for your booking information and an accurate head count upon arrival. Payment can be made by cash, credit, or cheque (made payable to the Canada Science and Technology Museum).
Personal Belongings
Cubbies and hooks are available for your group's personal belongings. A host will bring you to them upon your arrival. The museum is not responsible for the security of items left there.
Museum code of conduct
Download Visitor Code of Conduct document (pdf)
For the comfort and enjoyment of everyone please refrain from:
smoking
eating, drinking, or gum chewing outside of the allocated areas
running
crossing barriers intended to preserve our artefacts
any conduct which is injurious or disrespectful to you, your fellow visitors, or museum staff
Lunch
Your group may bring their own lunches and eat it in the designated areas or under the tent, weather permitting. The Collective café will be open for anyone wishing to purchase food and beverages.
Please note that the museum cannot guarantee an allergy-free environment.
First aid
First aid is provided by visitor experience staff at the museum. A chaperone must remain with his or her charge at all times in the First Aid Room.
Name tags
Please make name tags for your students which can be read easily by our educators. This will help them to quickly build a rapport with your class.
Chaperones
During programs, museum educators encourage teachers and accompanying adults to participate and assist. During free time, proper supervision is essential to creating a safe, fun atmosphere at the museum. Teachers and supervisors are expected to remain with their students at all times.
Chaperone Guides
Reference the following chaperone guides during your group's visit for tips on how to engage students with the exhibits.
Chaperone Guide 5 years and under
Chaperone Guide 12 to 15 years
Chaperone Guide 15 years and up
Chaperone Ratios
The following minimum ratios for student supervision (by adults) are required when visiting the museum:
Grade
Preschool to Grade 8 (Ontario)
Preschool to Secondary Cycle 1 (Quebec)                  10:1
Grades 9 and up (Ontario)
Secondary Cycle 2 and up (Quebec)                           15:1
Adult chaperones are included in the group price at a maximum ratio of one per four students for elementary groups, or one per six students for secondary groups. If you wish to have additional adults accompany your visit, they will be charged the group rate.
Accessibility
The museum is committed to providing an accessible environment. Please let us know if your group has any special needs upon booking, and we'll be happy to discuss specific accommodations!
Cancellation policy
In the event of a cancellation, the museum must be notified at least two business days prior to the scheduled visit/program. A $30 administration fee will apply, unless the program is rescheduled within the same school year. No refunds will be given for notice of cancellations less than two business days before the scheduled visit/program.
Further questions
Have any further questions? Feel free to contact us and we'll be happy to help.
Email: contact@IngeniumCanada.org
Telephone: 613-991-3044
Toll-free: 1-866-442-4416
Fax: 613-993-7923
We look forward to meeting your group at the Canada Science and Technology Museum!