Highlights:
A single-engine, three-seater, general-purpose biplane made by Advance Aircraft Company/Waco Aircraft Company in the U.S. from 1927 to 1933
Popular with small commercial operators and private owners for barnstorming, charter trips and flight instruction
Introduced hydraulic shock-absorbing landing gear to the personal aircraft industry
Redesignated Waco GXE and sometimes known as Waco 90
A derivative model sporting a 200 hp Wright Whirlwind engine won the 1928 Ford Reliability Tour, an efficiency competition covering a total distance of 10,150 km (6,300 miles)
Very similar to the Travel Air 2000
First flight was in 1927
Image Gallery:
History:
The word "barnstorming" was first used in the late 19th and early 20th centuries to describe the activities of small theatrical groups that often performed in barns while visiting farming communities across the country. Later, the term was applied to the activities of itinerant pilots of the 1920s who flew from town to town and offered rides for a modest fee. For many North Americans, this was their first airplane ride, usually in war surplus Curtiss JN-4 "Jennies" or "Canucks". But it soon became evident that there was a need for more modern aircraft with better performance and greater carrying capacity.
By 1928, a number of new biplane types had appeared on the scene that epitomized 1920s aviation in North America. Many were of similar design, powered by the war surplus 90 hp Curtiss OX-5 engines then available in large numbers. Because of its simple beauty and pleasant flying characteristics, the Waco 10 was one of the most popular of this class. Small commercial operators and private owners used this model for barnstorming, charter trips or flight instruction.
Current Location:
Reserve Hangar, Canada Aviation and Space Museum
Provenance:
Donation
This Waco 10 was built in 1928. Its early history is poorly known. Its first owner, however, was one C. Lee Nelson who flew the aircraft in Indiana and Ohio until at least 1936. Around 1977, it was purchased in the United States by the Canadian company Leavens Aviation Incorporated to commemorate the firm's fiftieth anniversary. The aircraft was similar to a Waco 9 and a Waco 10 the company had owned between 1928 and 1937. The aircraft was restored in 1977, and it became a familiar sight at aerial displays and fly-ins throughout Ontario for a number of years.
One of Canada's oldest aviation companies, Leavens Aviation began as Leavens Brothers Air Services. In the late 1920s, Art, Walt and Clare Leavens started a barnstorming operation. They later expanded their services to include crop and forest spraying, advertising and banner-towing, plus aerial photography. They also opened a flying school in Toronto in 1937.
The Leavens family first loaned and then donated the Waco to the Museum. It was flown to Rockcliffe airport during the summer of 2000.
Technical Information:
| | |
| --- | --- |
| Wing Span | 9.3 m (30 ft 7 in) |
| Length | 7.2 m (23 ft 6 in) |
| Height | 2.7 m (9 ft) |
| Weight, Empty | 545 kg (1,200 lb) |
| Weight, Gross | 919 kg (2,025 lb) |
| Cruising Speed | 135 km/h (84 mph) |
| Max Speed | 156 km/h (97 mph) |
| Rate of Climb | 158 m (520 ft) /min |
| Service Ceiling | 3,660 m (12,000 ft) |
| Range | 620 km (385 mi) |
| Power Plant | one Curtiss OX-5, 90 hp, Vee engine |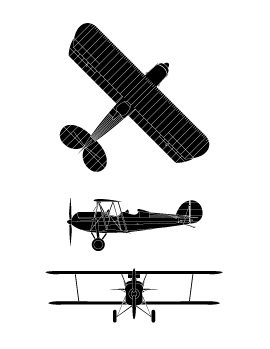 Canada Aviation and Space Museum
Manufacturer
Advance Aircraft Company
Manufacturer Location
United States
Manufacture Date
1928, rebuilt 1977
Registration Number
C-GAFD