Highlights:
A British, medium-range turboprop airliner designed and built by Vickers-Armstrong (Aircraft) Limited from 1948 to 1964
First production airliner with turboprop engines
Initially named "Viceroy," after British governors general of India; renamed when India gained independence
Flown by close to fifty airlines around the world
Flown by Trans-Canada Air Lines (TCA) / Air Canada from 1955 to 1969 (the first turboprop service in North America)
Modifications instigated by TCA (particularly winterization of the airplane), enabled North American operations; became first British airliner used by a North American airline
First flight was in August 1950 (first production)
Image Gallery:
History:
The Viscount, as the first turboprop airliner to go into production, broke the piston engine's monopoly on air transport. It was also the first turboprop to fly a regular airline service. After requiring changes to make the Viscount more suitable for North American operations, Trans-Canada Air Lines ordered a total of 51. TCA flew Viscounts from 1955 until 1969. When modified Viscounts were also purchased by two US airliners, they became the first British commercial airplane to enter American service.
The Viscount brought a new level of comfort to air travel. The pressurized cabin allowed smooth high-altitude flight without passenger discomfort, while the reliable engines produced a minimum of vibration and noise. Even though the production Viscount was an enlarged version of the prototype, it soon proved too small. Practically every postwar airliner built has been followed by an enlarged or stretched version.
Current Location:
Reserve Hangar, Canada Aviation and Space Museum
Provenance:
Donation from Air Canada
This Viscount was manufactured in 1957 by Vickers-Armstrong (Aircraft) Limited in Weybridge, Surrey, England. The aircraft's first flight was on May 19, 1957. It was accepted by TCA on May 26 and was the twenty-seventh Viscount delivered to TCA.
The aircraft served with TCA for almost twelve years, flying more than 27,000 hours. Its final flight was in November 1969. After its retirement, the airline (by then Air Canada) restored the Viscount to its original forty-seat, two-class configuration, painting it in its original TCA markings.
Air Canada donated the Viscount to the Museum in 1969. It was flown to Rockcliffe airport and became the first propeller turboprop-powered aircraft in the Museum's collection.
Technical Information:
| | |
| --- | --- |
| Wing Span | 28.6 m (93 ft 8 1/2 in) |
| Length | 24.9 m (81 ft 9 in) |
| Height | 8.5 m (27 ft 9 in) |
| Weight, Empty | 17,260 kg (38,060 lb) |
| Weight, Gross | 28,570 kg (63,000 lb) |
| Cruising Speed | 521 km/h (324 mph) |
| Max Speed | 612 km/h (380 mph) |
| Rate of Climb | 366 m (1,200 ft) /min |
| Service Ceiling | 8,690 m (28,500 ft) |
| Range | 3,219 km (2,000 mi) |
| Power Plant | four Rolls-Royce Dart 506, 1,400 hp, turboprop engines |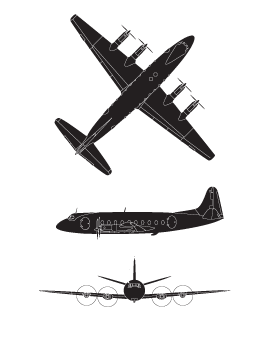 Canada Aviation and Space Museum
Manufacturer
Vickers Armstrong Aircraft Ltd.
Manufacturer Location
Great Britain
Registration Number
CF-THI