Highlights:
A U.S., single-seater, low-wing, homebuilt monoplane designed by Ray Stits at Flabob Airport, California in 1952
A kit airplane for amateur aircraft builders; plans were put on sale in 1953
To be considered homebuilt, 51 per cent of an aircraft had to be built by an amateur constructor
Featured a simple and solid design made of steel tubes, wood and fabric
Proved extremely popular with amateur aircraft builders
As many as a thousand were completed by amateur builders since the 1950s; it helped revive the U.S. homebuilt movement after the Second World War
A side-by-side two-seater version (known as SA-3B) was also available
First flight was in October 1955
Image Gallery:
History:
During the 1920s and 1930s building aircraft from kits and plans was popular among enthusiasts in the United States. In the 1950s, the Experimental Aircraft Association of Canada was formed to further home aircraft building. The Stitts SA-3A Playboy is a kit airplane. The kit was considerably modified by Keith S. Hopkinson: the nose cowl was from a Piper J-3, the propeller spinner from a Cessna 170, wing struts from a Tiger Moth, landing gear from a Cessna 140, and wheel pants from a Stinson 108.
Hopkinson is credited with persuading the Canadian Department of Transport to facilitate the licensing of homebuilt aircraft. His Playboy was the first homebuilt licensed in Canada after the Second World War.
Current Location:
Reserve Hangar, Canada Aviation and Space Museum
Provenance:
Purchase
This SA-3A Playboy was built over the course of just eleven months by Keith "Hoppy" Hopkinson of Goderich, Ontario in 1955. It was made from a kit designed by Ray Stits at Flabob Airport, California. Hopkinson made major modifications to the kit, using parts from a Piper J-3, a Cessna 170, a de Havilland Tiger Moth, a Cessna 140 and a Stinson 108. He named the aircraft "Little Hokey."
By the 1950s, Canada's Department of Transport had not licensed a homebuilt aircraft in more than a decade. Hopkinson persuaded the department to facilitate licensing of homebuilts, and this Playboy was the first Canadian-built aircraft to be licensed under the Ultralight classification.
In 1977, Don Kernohan of Richmond, Ontario bought the Playboy. It was purchased by the Museum the following year.
Technical Information:
| | |
| --- | --- |
| Wing Span | 6.7 m (22 ft) |
| Length | 5.3 m (17 ft 4 in) |
| Height | 1.4 m (4 ft 9 in) |
| Weight, Empty | 311 kg (685 lb) |
| Weight, Gross | 435 kg (960 lb) |
| Cruising Speed | 209 km/h (130 mph) |
| Max Speed | 241 km/h (150 mph) |
| Rate of Climb | 305 m (1,000 ft) /min |
| Service Ceiling | 3,660 m (12,000 ft) |
| Range | Unknown |
| Power Plant | one Lycoming 0-235-C1, 100 hp, horizontally-opposed engine |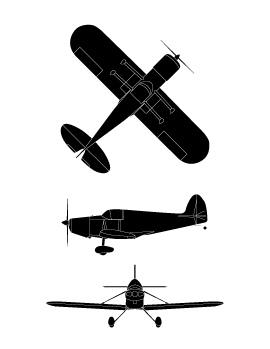 Canada Aviation and Space Museum
Manufacturer Location
Canada
Registration Number
C-FRAD