Highlights:
A single-engine, four- to five-seater aircraft manufactured in the 1930s by the Stinson Aircraft Division of the Aviation Corporation of Wayne, Michigan
SR was the first of many variations in the Reliant line
Its comfort and affordability made it popular with private operators and businesses
Later variants sported a double-tapered wing design known as a "gull wing"
Owned by film and radio celebrities, including Charles J. Correll of "Amos 'n Andy" fame
An SR-5A was flown by early film star Ruth Chatterton, the first actress to own and fly her own airplane
First flight was in May 1933
Image Gallery:
History:
The Stinson Reliant SR was designed for private operators and small charter companies. Although it was the type of airplane suited to Canadian bush operations, only one was imported before Second World War. A second Reliant entered Canada in 1953. This airplane was not retired until 1973. About 190 Reliant SRs were produced.
The Stinson Reliant SR was also produced in improved models, SR-1 through SR-6 which, though still called Reliant, had a different wing design from the SR. Development culminated in the classic SR-9F "Gull Wing", many of which flew in Canada.
Current Location:
Bush Flying Exhibition, Canada Aviation and Space Museum
Provenance:
Purchase
Built in 1933, this Reliant's first owner was William Lear (founder of Learjet Corporation). Registered as NC13464, the aircraft had a number of private American owners until 1948, when it was purchased by Leithold Seaplane Service of Minnesota. This company converted the Reliant to floats in 1949.
The aircraft became the second (and likely the last) SR registered in Canada, when it was purchased in 1953 by I. I. Handberg and registered as CF-HAW to Lac la Croix-Quetico Air Service of Lac la Croix, Ontario.
By 1957, the Reliant had had a few different owners and was changing hands as scrap metal rather than a working aircraft. It was then in storage until 1963, when it was purchased by J. E. Culliton of Sault Ste. Marie, Ontario and restored by Northland Aircraft Service. The cabin was enlarged and lined with aluminum sheet; new cabin doors were installed and a pilot's door was added. The original plate-glass windows were replaced by Plexiglas and a new full-instrument panel was added.
After restoration and until 1974, the aircraft was owned by Leslie G. Martin of Barrie, Ontario. It was then acquired by Gordon H. Hughes of Northland Aircraft Service, who restored the Reliant a second time. In 1981, Akela Aircraft Repair of Whitefish, Ontario purchased the aircraft, selling it two years later to the Museum, where it arrived, on floats, in June 1983.
Technical Information:
| | |
| --- | --- |
| Wing Span | 13.2 m (43 ft 3 in) |
| Length | 8.2 m (27 ft) |
| Height | 2.6 m (8 ft 5 in) |
| Weight, Empty | 939 kg (2,070 lb) |
| Weight, Gross | 1,431 kg (3,155 lb) |
| Cruising Speed | 185 km/h (115 mph) |
| Max Speed | 209 km/h (130 mph) |
| Rate of Climb | 229 m (750 ft) /min |
| Service Ceiling | 4,270 m (14,000 ft) |
| Range | 740 km (460 mi) |
| Power Plant | one Lycoming R-650 E-3, 300 hp, 9-cylinder, air-cooled radial engine |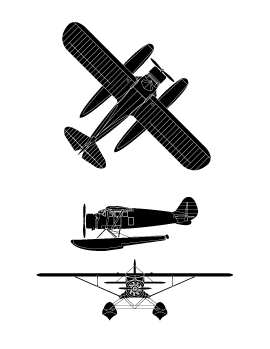 Canada Aviation and Space Museum
Manufacturer
Stinson Aircraft Corporation
Manufacturer Location
United States
Registration Number
C-FHAW