Highlights:
A British-designed, single-engine, two-seater biplane that served with the Royal Flying Corps during the First World War
Used primarily for reconnaissance and observation (though some served as single-seater bombers or fighters during the war)
Designed by aircraft engineer Geoffrey de Havilland, British aviation pioneer and founder of de Havilland Aircraft Company (1920), who later designed the de Havilland Moth and Tiger Moth, a highly successful Second World War training aircraft
First British military aircraft to fly across the English Channel to France after the start of the First World War
First flight was in February 1912 (B.E. 2)
Image Gallery:
History:
Early B.E. 2s saw service with the Royal Flying Corps from 1912 onwards. The B.E. 2c operated in France, mainly for reconnaissance and military observation, although some were single-seat bombers. Single-seat B.E. 2c night fighters downed six airships over Britain. The B.E. 2d was a 2c with different fuel system. Modified wings of the B.E. 2es increased speed but not manoeuvrability. Withdrawn from action in 1917, many continued as trainers until the war's end. In all, 3 260 B.E. 2s were built.
A B.E. 2 became the first British aircraft to fly across the Channel and land in France after the outbreak of First World War. All models of the B.E. 2 had such great stability that they could nearly fly themselves during reconnaissance and artillery observation missions. While an easy target in the air over France, the B.E. 2c's stability contributed to its success as a single-seat home-defence fighter against German airships in night raids over England.
Current Location:
Reserve Hangar, Canada Aviation and Space Museum
Provenance:
Transfer from the Royal Canadian Air Force
This Royal Aircraft Factory B.E. 2 was built in 1915 by the British and Colonial Aeroplane Company Limited and served with No. 7 Squadron RFC from 1916 to 1917. Misidentified as a B.E.2c fighter flown by a Canadian who had destroyed a German airship, it was sent to Canada as a war trophy in 1919. The aircraft was reconditioned and displayed at the National Research Council's Aeronautical Museum between 1936 and 1940. In storage until 1957, it was restored by the RCAF in 1957 and 1958. The aircraft was displayed at the Canadian War Museum between 1959 and 1962. It was added to the Canada Aviation and Space Museum collection in 1964. During restoration, the Museum's conservation team re-discovered the aircraft's true identity.
Technical Information:
| | |
| --- | --- |
| Wing Span | 11.2 m (36 ft 10 in) |
| Length | 8.3 m (27 ft 3 in) |
| Height | 3.5 m (11 ft 4 in) |
| Weight, Empty | 621 kg (1,370 lb) |
| Weight, Gross | 972 kg (2,142 lb) |
| Cruising Speed | Unknown |
| Max Speed | 145 km/h (90 mph) |
| Rate of Climb | 1,980 m (6,500 ft) / 20 min |
| Service Ceiling | 3,050 m (10,000 ft) |
| Range | 4 hours (Endurance) |
| Power Plant | one RAF 1a, 90 hp, Vee engine |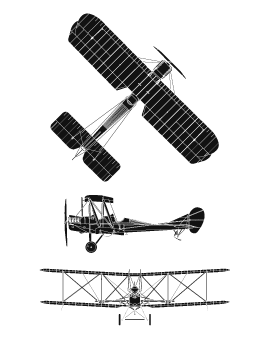 Canada Aviation and Space Museum
Manufacturer
The British and Colonial Aeroplane Company Ltd.
Manufacturer Location
Great Britain
Registration Number
5878 (RFC)