Highlights:
An American single-seater, tandem-winged home-built aircraft manufactured as a kit by Quickie Aircraft Corporation from 1978 to 1987
Sold as a complete kit with engine included; intended to be built at home
Designed by Burt Rutan, one of the most innovative aircraft designers of the late twentieth century
Its main components, including fuselage and wings, were made of fibreglass
More than 2,000 kits were sold in the United States and abroad
Received the Outstanding New Design award from the Experimental Aircraft Association in 1978
Canadian Garry LeGare designed a two-seater Q2 version in 1980; Quickies were distributed in Canada by Leg-Air Aviation Limited
First flight was on November 15, 1977
Image Gallery:
History:
Made of glass fibre and foam, the Quickie was designed to be a fast and efficient, single-seat, sports homebuilt, powered by a small engine. The unusual tandem-winged , tailless aircraft was flown by each of its three designers on the day of its first flight. Since 1 mph (1.6 km/h) per engine horsepower at cruising speed is considered efficient, the Quickie's 7 mph (11.3 km/h) per horsepower is remarkable.
Construction on the prototype Quickie started in August 1977, with design frozen in January 1978. By June 1978 the Quickie was offered as a complete kit with engine included. During the 1980s a more powerful engine was introduced which could also be fitted to earlier versions. A radical development was the Quickie Q2, a two-seat model prototype which was built in Surrey, B.C. and first flown in 1980. By the late 1990s, 3 000 one and two-seat kits had been sold.
Current Location:
Reserve Hangar, Canada Aviation and Space Museum
Provenance:
Donation from J.D. Vos
The kit for this Quickie was manufactured by Quickie Aircraft Corporation of Mojave, California around 1983. It was assembled by Johannes Denis Vos in Brantford, Ontario in 1983 and 1984. The owner and operator first flew the Quickie in October 1984. Most of its flights were in the Brantford area. The aircraft received much attention when it was displayed at a Hamilton, Ontario air show in 1986.
The Quickie flew a total of 135 hours over the course of six years. The aircraft was donated to the Museum in 1990, when Vos ended his flying career.
Technical Information:
| | |
| --- | --- |
| Wing Span | 5.1 m (16 ft 8 in) |
| Length | 5.3 m (17 ft 4 in) |
| Height | Unknown |
| Weight, Empty | 110 kg (240 lb) |
| Weight, Gross | 220 kg (480 lb) |
| Cruising Speed | 195 km/h (121 mph) |
| Max Speed | 203 km/h (126 mph) |
| Rate of Climb | 110 m (360 ft) /min |
| Service Ceiling | 3,750 m (12,300 ft) |
| Range | 1,320 km (820 mi) |
| Power Plant | one modified Orion, 18 hp, horizontally-opposed piston engine |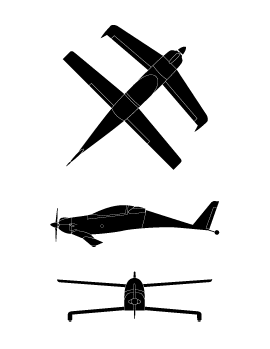 Canada Aviation and Space Museum
Manufacturer Location
United States
Registration Number
C-GGLC