Highlights:
A U.S., single-engine utility helicopter designed and built by Piasecki Helicopter Corporation between 1948 and 1954
Known as Retriever in the U.S. Navy and H-25 Army Mule in the U.S. Army; also nicknamed "the hupmobile" and "the shoe"
Operated from carriers for search-and-rescue missions and general transportation
Featured an electrically operated door and a pilot-operated winch
Three were flown by RCN from HMCS Labrador (reporting on ice conditions and surveying northern waters)
First flight was in 1949
Image Gallery:
History:
The HUP-3 was built to a US Navy requirement for a carrier-based helicopter for search-and-rescue and general transportation. Seventy similar aircraft went to the US Army under the designation H-25A. Considered too small, 50 were transferred to the US Navy as the HUP-3. The Royal Canadian Navy received three HUP-3s in 1954. Operating from HMCS Labrador in northern Canadian waters, they reported on ice conditions and conducted hydrographic and oceanographic surveys. The RCN HUP-3s were retired in 1964.
This aircraft was the last of a line of pioneer helicopters developed under the Piasecki name. Early versions of the HUP were called the "hupmobile" or "shoe", because of their distinctive shape. A prototype performed the first known loop by a helicopter. A large cargo door in the side of the fuselage could accommodate a stretcher and hoist for rescue work. A floor hatch allowed 180-kg (400-lb) loads to be winched up into the cabin.
Current Location:
Helicopters Exhibition, Canada Aviation and Space Museum
Provenance:
Purchase
This HUP-3 was manufactured in May 1954 by Piasecki Helicopter Corporation in Norton, Pennsylvania. Built as a model H-25A Army Mule for the U.S. Army, it was immediately modified (door and winch were installed) for use by the Royal Canadian Navy.
The helicopter was flown to Halifax on May 18 to begin service with helicopter squadron HU-21 in June 1954. During its career, the HUP-3 was used for search-and-rescue operations and training duties, and was deployed aboard HMCS Labrador.
The HUP-3 was retired in 1964 and purchased by the Museum on February 24, 1965. It was restored by Boeing Canada in Arnprior, Ontario between May 1981 and November 1982.
Technical Information:
| | |
| --- | --- |
| Rotor diameter | 10.7 m (35 ft) |
| Length | 9.8 m (32 ft) |
| Height | 3.8 m (12 ft 6 in) |
| Weight, Empty | 1,874 kg (4,132 lb) |
| Weight, Gross | 2,608 kg (5,750 lb) |
| Cruising Speed | 129 km/h (80 mph) |
| Max Speed | 161 km/h (100 mph) |
| Rate of Climb | 305 m (1,000 ft) /min |
| Service Ceiling | 3,050 m (10,000 ft) |
| Range | 644 km (400 mi) |
| Power Plant | one Continental R-975-46, 550 hp, radial engine |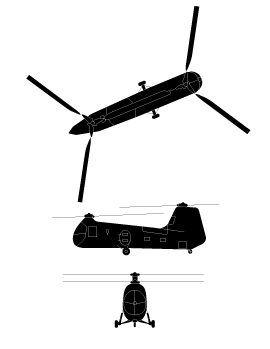 Canada Aviation and Space Museum
Manufacturer
Piasecki Helicopter Corporation
Manufacturer Location
United States
Registration Number
51-16623 (RCN)