Highlights:
A single-engine, advanced trainer designed by North American Aviation Incorporated of Inglewood, California and produced between 1937 and 1953
Known as the AT-6 Texan by the U.S. military, for whom it was designed
Used for training nearly all U.S. and British Commonwealth fighter pilots from 1940 to 1955
Used in Canada during the Second World War under the British Commonwealth Air Training Plan
Noorduyn Aviation Limited and Canadian Car & Foundry Limited produced a total of 3,350 Harvards in Canada both during and after the Second World War: its production was the highest for a Canadian-built aircraft
One of the most famous and successful trainers of all time
First flight was in 1940 (AT-6)
Image Gallery:
History:
One of the best advanced training aircraft ever built, the Harvard became a mainstay of the British Commonwealth Air Training Plan. Harvard IIBs were first ordered from Noorduyn in Montreal in January 1940. Noorduyn eventually built 2 800 Harvards for the RAF and RCAF. Canadian Car and Foundry made 550 Mk.4s for Canada and the United States in the 1950s. The Mk.4 had an improved cockpit canopy and greater fuel capacity.
The Harvard must be considered one of the outstanding aircraft of Second World War and the early postwar years. From 1940 to 1955, nearly all American and British Commonwealth pilots had some training on Harvards. Strong and unforgiving, requiring a delicate touch to keep straight on landing and take-off, it was an ideal training airplane. The Harvard was the most numerous of Canadian-built aircraft, with a total of 3 350 produced. In anticipation of a possible aluminum shortage, a wooden rear fuselage and wings were developed and built, but not produced. A gunnery trainer and target tow version were also developed but never produced. Skis were produced but never installed because a strengthened undercarriage would have been necessary.
Current Location:
British Commonwealth Air Training Plan Exhibition, Canada Aviation and Space Museum
Provenance:
Transfer from the Royal Canadian Air Force
This Harvard was manufactured for the RCAF by North American Aviation Incorporated in Inglewood, California in 1940. It was accepted on August 17, 1940 and served in several training schools until it was placed in storage in 1962. In 1964, it was transferred to the RCAF's historic aircraft collection at Rockcliffe airport, which eventually became part of the Canada Aviation and Space Museum collection.
Technical Information:
| | |
| --- | --- |
| Wing Span | 12.8 m (42 ft 1/2 in) |
| Length | 8.8 m (28 ft 11 in) |
| Height | 3.5 m (11 ft 8 1/2 in) |
| Weight, Empty | 1,812 kg (3,995 lb) |
| Weight, Gross | 2,375 kg (5,235 lb) |
| Cruising Speed | 225 km/h (140 mph) |
| Max Speed | 290 km/h (180 mph) |
| Rate of Climb | 396 m (1,300 ft) /min |
| Service Ceiling | 6,710 m (22,000 ft) |
| Range | 1,143 km (710 mi) |
| Power Plant | one Pratt & Whitney R-1340-AN-1 Wasp, 600 hp, radial engine |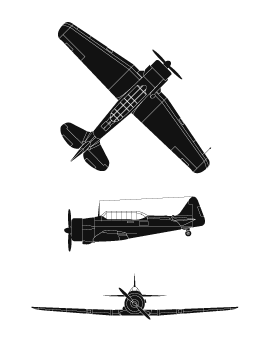 Canada Aviation and Space Museum
Manufacturer
North American Aviation Inc
Manufacturer Location
United States
Registration Number
2532 (RCAF)