Highlights:
A fighter sesquiplane (biplane with wings of different size) widely used by Allied forces during the First World War
Favoured by many Canadian flying aces, including Billy Bishop and Arthur Roy Brown
Direct descendant of the Nieuport 12
First flight was in early 1916
Image Gallery:
History:
The Nieuport 17 was one of the classic fighters of First World War. It reached the French front in March 1916, and was adopted by the Royal Flying Corps and the Royal Naval Air Service because of its superiority to any British-designed aircraft then in service. Nieuport 17s also served with the Dutch, Belgian, Russian, and Italian air forces. Italy built 150 under licence, and Germany was so impressed it asked manufacturers to use some of its features. Six RFC squadrons and eight RNAS squadrons used the Nieuport 17.
Even though its lower wing could twist off in high speed dives, the Nieuport became the favourite of the leading allied air aces. The Canadian ace, W.A. "Billy" Bishop, was awarded the Victoria Cross while flying a Nieuport 17.
Current Location:
On loan to the Canadian War Museum
Provenance:
Donation
This Nieuport 17 was built by American amateur airplane-maker Carl R. Swanson in 1961, as a flying replica. A generous donor purchased the aircraft for the Museum in 1963. It was refinished to match the airplane in which the famous Canadian ace William Avery "Billy" Bishop earned the Victoria Cross.
Wing Commander Paul A. Hartman took the aircraft on its first flight in May 1967, at Rockcliffe airport. It was flown in several air shows across Canada, including a flight demonstration during the visit of HRH Prince Charles, Prince of Wales, in April 1975. Unfortunately, it crashed at the Abbotsford International Air Show in 1989. The Museum's skilled restoration team rebuilt the aircraft to its current state.
Technical Information:
| | |
| --- | --- |
| Wing Span | 8 m (26 ft 9 1/4 in) |
| Length | 5.8 m (19 ft) |
| Height | 2.4 m (7 ft 10 1/2 in) |
| Weight, Empty | 375 kg (827 lb) |
| Weight, Gross | 560 kg (1,235 lb) |
| Cruising Speed | Unknown |
| Max Speed | 165 km/h (102 mph) |
| Rate of Climb | 2,000 m (6,560 ft) / 6 min 50 sec |
| Service Ceiling | 5,300 m (17,390 ft) |
| Range | 249 km (155 mi) |
| Power Plant | one Le Rhone 9Jb, 110 hp, rotary engine |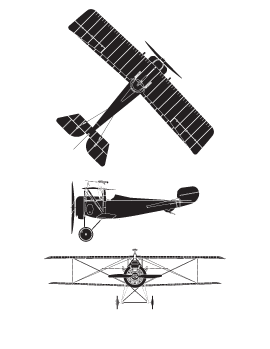 Canada Aviation and Space Museum
Manufacturer
Home-Built (Carl Swanson)
Manufacturer Location
United States
Registration Number
B1566 (RFC)