Highlights:
A twin-engine supersonic fighter and attack aircraft produced in the U.S. by McDonnell Douglas Corporation from 1978 to 2000
Commonly known as a CF-18 in Canada and officially named the F/A-18 Hornet in the U.S.
Developed for the U.S. Navy and Marine Corps, to operate from aircraft carriers and land bases
Its capabilities, reliability and versatility make it extremely popular with pilots
Canada received 138 CF-188s between 1982 and 1988: 98 single-seater CF-188As and 40 two-seater CF-188Bs
Became Canada's sole fighter aircraft, replacing McDonnell CF-101 Voodoos and Canadian-made Lockheed CF-104 Starfighters and Northrop CF-116s
Canadian CF-188s participated in the Gulf War in 1991 and flew over the former Yugoslavia in 1999–2000
First flight was on November 18th, 1978 (F/A-18)
Image Gallery:
History:
The McDonnell Douglas F/A-18 Hornet is one of the great success stories of the American aerospace industry. This twin-engined supersonic fighter and attack aircraft can operate from both aircraft carriers and land bases. Developed primarily for use by the U.S. Navy and Marine Corps, it also serves in the air forces of seven other countries, from Canada to Australia, and from Finland to Malaysia.
Canada was the first foreign country to order F/A-18s with a contract for 138 CF-188s signed in April 1980. They were to replace three older aircraft of the Canadian Forces: the McDonnell CF-101 Voodoo all-weather fighter used to protect Canada's air space, as well as the Canadair-built CF-104 Starfighter and CF-116 (CF-5) attack fighters dedicated to help NATO in Europe.
Current Location:
Jet Age Exhibition, Canada Aviation and Space Museum
Provenance:
Transfer from the Canadian Forces
This CF-188 was manufactured by McDonnell Douglas Corporation in St. Louis, Missouri in July 1982. It was the first CF-188 delivered to Canada, and the first two-seater model designed for training.
As Canada's first CF-188, the aircraft was part of a large ceremony at the factory on July 28, 1982. It made its first flight a few days later. The Canadian Forces officially accepted the aircraft on October 7. On October 25, Prime Minister Pierre Elliot Trudeau was on board one of the two CF-188s, including the Museum's aircraft, that flew over Ottawa. Soon after this, the aircraft was delivered to No. 410 "Cougar" Squadron, the operational training unit for the CF-188, based at Cold Lake, Alberta, where it served as a trainer.
When maintaining the aircraft in flying condition became prohibitively expensive, it was transferred to the Museum. On October 18, 2001, it was flown to Rockcliffe airport. Given the airport's short runway, the Canadian Forces installed a mobile arresting gear (similar to that used on aircraft carriers), to ensure a safe landing.
Technical Information:
| | |
| --- | --- |
| Wing Span | 11.4 m (37 ft 6 in) |
| Length | 17.1 m (56 ft) |
| Height | 4.65 m (15 ft 3 in) |
| Weight, Empty | 10,610 kg (23,400 lb) |
| Weight, Gross | 23,535 kg (51,900 lb) |
| Cruising Speed | 907 km/h (564 mph) |
| Max Speed | 1,915 km/h (1,190 mph) |
| Rate of Climb | 15,240 m (50,000 ft) /min |
| Combat Ceiling | 15,240 m (50,000 ft) |
| Range, with external tanks | 3,330 km (2,070 miles) |
| Power Plant | two General Electric F404-GE-400 turbofans 7,255 kg (16,000 lb) thrust each with afterburner |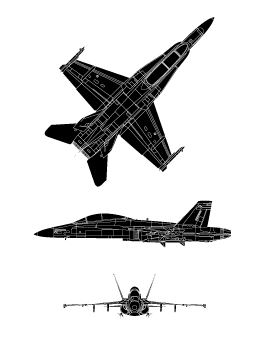 Canada Aviation and Space Museum
Manufacturer
McDonnell Douglas Corporation
Manufacturer Location
United States
Acquisition Date
18 October 2001
Registration Number
188901