Highlights:
A U.S. executive jet aircraft built by Lockheed Aircraft Corporation between 1957 and 1979
Initially intended as a light transport aircraft for U.S. Air Force use
Designed by Clarence "Kelly" Johnson, who also designed the Lockheed T-33 Silver Star and the F-104 Starfighter
A Canadian Jetstar was bought by T. Eaton Company Ltd.: the first private business in Canada to operate an executive jet
Used by the Department of Transport to carry officials and royalty
A Jetstar (nicknamed "Air Force One-Half") was used by U.S. President Lyndon B. Johnson; Elvis Presley's Jetstar was named "Hound Dog II"
First flight was in 1960
Image Gallery:
History:
The Jetstar was initially designed to fulfil a US Air Force requirement. It was to be powered by two British Bristol Orpheus engines. Because of budget cuts, the USAF requirement was dropped, but Lockheed continued production as a business jet with four Pratt & Whitney jet engines. Lockheed built 204 Jetstars, and many were still in service in the 1990s. Eight Jetstars were operated in Canada. The Department of Transport operated three from 1962 to 1986 for airway inspection and personnel transport.
While the Jetstar was a very early business jet, it was not the first. That distinction belongs to France's Morane-Saulnier MS.760, which first flew in 1952.
Current Location:
Reserve Hangar, Canada Aviation and Space Museum
Provenance:
Donation from Transport Canada
This Jetstar was manufactured by Lockheed Aircraft Corporation of Marietta, Georgia in 1961. It was purchased by the Canadian Department of Transport (DOT) and was delivered on January 17, 1962. The DOT, later known as Transport Canada, was one of the first civil organizations in the world to operate an executive jet. The Museum's Jetstar was the first one delivered to the department.
Between 1962 and 1986, Transport Canada used the Jetstar to carry Canadian prime ministers who served during this time, as well as many Canadian and foreign officials and dignitaries, both in Canada and abroad. When it was retired, Transport Canada donated the aircraft to the Museum. It was flown to Rockcliffe airport on June 9, 1986.
Technical Information:
| | |
| --- | --- |
| Wing Span | 16.6 m (54 ft 5 in) |
| Length | 18.4 m (60 ft 5 in) |
| Height | 6.2 m (20 ft 5 in) |
| Weight, Empty | 10,013 kg (22,074 lb) |
| Weight, Gross | 18,562 kg (40,921 lb) |
| Cruising Speed | 813 km/h (505 mph) |
| Max Speed | 907 km/h (564 mph) |
| Rate of Climb | 1,005 m (3,300 ft) /min |
| Service Ceiling | 10,060 m (33,000 ft) |
| Range | 4,255 km (2,645 mi) |
| Power Plant | four Pratt & Whitney JT12-6 axial flow, 1,360 kg (3,000 lb) static thrust jet engines |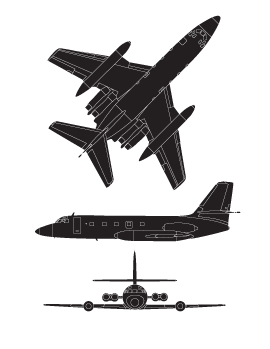 Canada Aviation and Space Museum
Manufacturer
Lockheed Aircraft Corporation
Manufacturer Location
United States
Registration Number
C-FDTX