Highlights:
A British naval fighter-bomber designed and produced by Hawker Aircraft Limited from 1945 to 1952
A naval version of the RAF's Hawker Fury
Equipped specifically to operate on aircraft carriers: its folding wings reduced size and its tail-hook caught cables stretching across the flightdeck to slow the aircraft on landing
Last piston-engine fighter used by the Royal Navy; among the fastest piston-engine aircraft ever built
Seventy-four acquired by the RCN
Replaced in Canada by the McDonnell F2H-3 Banshee jet fighter, around 1955–56
Used for ground attack by the Royal Navy and the Royal Australian Navy in the Korean War
First flight was in February 1945
Image Gallery:
History:
The Hawker Fury was designed as a smaller and lighter version of the Hawker Tempest. The Sea Fury was the naval version, with folding wings and tail-hook . The Sea Fury FB.11 was a fighter-bomber capable of carrying bombs and rockets under its wings. Most of the 860 Sea Furys built went to the Royal Navy, including 60 Mk.20 two-seat trainer versions. The RCN's 74 FB.11s were based on shore and on the aircraft carrier HMCS Magnificent. Sea Furys served with the RCN until they were retired in 1956.
The Sea Fury was one of the fastest piston-engine aircraft built; as a result, some surplus Sea Furies were used successfully for open-class air racing. Others have been restored to original flying condition and are frequently seen at airshows both in Europe and North America.
Current Location:
Reserve Hangar, Canada Aviation and Space Museum
Provenance:
Donation from Bancroft Industries
This Sea Fury was manufactured by Hawker Aircraft Limited in Kingston, United Kingdom in 1948. It was accepted by the RCN in May of that year and shipped to Canada aboard HMCS Magnificent.
Starting in 1949, it served with No. 883 Squadron, later known as VF 871, at HMCS Shearwater a land base in Dartmouth, Nova Scotia. The Sea Fury was damaged in 1954 and repaired by Fairey Aviation Company of Canada Limited. Retired from service, it was deemed surplus and sent to Crown Assets until 1956, when it was purchased by Bancroft Industries Limited of Montreal.
The company stored the aircraft in Fredericton, New Brunswick until 1963, and then donated it to the Museum. Fairey Aviation and a RCN unit at Eastern Passage, Nova Scotia restored the aircraft between 1963 and 1964.
Technical Information:
| | |
| --- | --- |
| Wing Span | 11.7 m (38 ft 4 3/4 in) |
| Length | 10.6 m (34 ft 8 in) |
| Height | 4.9 m (16 ft 1 in) |
| Weight, Empty | 9,240 lb (4,190 kg) |
| Weight, Gross | 5,670 kg (12,500 lb) |
| Cruising Speed | Unknown |
| Max Speed | 740 km/h (460 mph) |
| Rate of Climb | 9,140 m (30,000 ft) / 10 min 48 sec |
| Service Ceiling | 10,910 m (35,800 ft) |
| Range | 1,127 km (700 mi) |
| Power Plant | one Bristol Centaurus XVIIC, 2,480 hp, two-row 18 cylinder radial engine |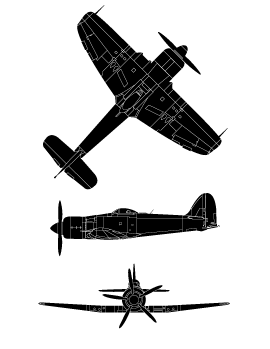 Canada Aviation and Space Museum
Manufacturer
Hawker Aircraft Ltd.
Manufacturer Location
Great Britain
Registration Number
TG 119 (MRC)