Highlights:
A single-seater, U.K.-designed fighter aircraft developed for the RAF before the Second World War
Among the most versatile fighter aircraft of its time, it flew over more fronts than any other British fighter aircraft
Played a significant role in the Battle of Britain (July to October 1940)
Developed during the 1930s, shares some of the same technology as the Spitfire (although designed separately); the Spitfire boasts a higher top-speed due to its narrower wings
Between 1939 and 1943, Canadian Hurricane production was supervised by Elsie MacGill, world's first female aeronautical engineer
First flight was on November 6th, 1936
Image Gallery:
History:
The Hurricane was the first monoplane fighter produced by Hawker, and was available in substantial numbers at the beginning of Second World War. Hurricanes played a decisive role in the Battle of Britain and went on to fly on more fronts than any other British fighter. Canadian Car and Foundry manufactured 1 451 Hurricanes between 1938 and 1943. With increasingly heavy armament, Hurricanes served to the end of the war. Hurricanes were used in Canada for training and coastal patrols.
Hurricanes equipped 26 RAF squadrons at the beginning of the Battle of Britain and shot down more enemy aircraft than all other defences combined. The RCAF received its first Hurricanes in August 1939, including those flown by Number 1 Squadron RCAF in the Battle of Britain. Later in the war, Sea Hurricanes were launched by catapult from ships at sea to defend convoys against air attack. A "tank buster" version with 40-mm cannons was used in North Africa.
Current Location:
Second World War Exhibition, Canada Aviation and Space Museum
Provenance:
Transfer from the Royal Canadian Air Force
Built in Canada by Canadian Car & Foundry Limited in 1942, this Hurricane is one of five known to have remained in Canada, and one of six Canadian-built examples known to exist. From 1942 until 1943, it served as a training aircraft in Winnipeg. Between 1943 and 1946, it was reassigned to various squadrons and stored at different locations across Canada. It was transferred to the RCAF's historic aircraft collection at Rockcliffe airport in February 1964.
Technical Information:
| | |
| --- | --- |
| Wing Span | 12.2 m (40 ft) |
| Length | 9.8 m (32 ft 3 in) |
| Height | 4 m (13 ft 1 1/2 in) |
| Weight, Empty | 2,259 kg (4,982 lb) |
| Weight, Gross | 3,023 kg (6,665 lb) |
| Cruising Speed | 332 km/h (206 mph) |
| Max Speed | 531 km/h (330 mph) |
| Rate of Climb | 768 m (2,520 ft) /min |
| Service Ceiling | 10,970 m (36,000 ft) |
| Range, with external tanks | 782 km (486 mi) |
| Power Plant | one Rolls-Royce (Packard) Merlin 29, 1,300 hp, Vee engine |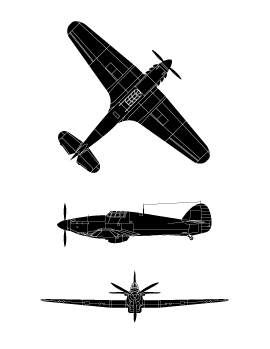 Canada Aviation and Space Museum
Manufacturer
Canadian Car and Foundry Company Ltd.
Manufacturer Location
Canada
Registration Number
5584 (RCAF)