Highlights:
An American eight-passenger amphibian designed and manufactured by Grumman Aircraft Engineering Corporation from 1937 to 1945
"Amphibian" meant it could operate from water or land/snow
Designed as luxury transport or a "flying yacht" for New York businessmen
Purchased by corporations, wealthy individuals and armed forces (U.S., Canadian, U.K., etc.)
Used by the RCAF (its first military buyer, in June 1938) for transport, rescue and training
An extremely versatile and popular aircraft
Some models were refitted with turboprop engines
First flight was on May 29, 1937 (G-21)
Image Gallery:
History:
The Goose was the first twin-engined Grumman design expressly designed for the civilian market. It flew for the first time in 1937 and remained in production until 1945.
It established an outstanding record for its ability to operate commercially from land and water bases, and was used throughout the world by civilian and military operators. It has given extensive service in Canada, particularly to the coastal areas of British Columbia.
Current Location:
Reserve Hangar, Canada Aviation and Space Museum
Provenance:
Donation from RCMP and British Columbia government
This Goose was manufactured by Grumman Aircraft Engineering Corporation in 1944, as part of a U.S. Navy contract. It was acquired by the RCAF that same year and used for light transport duties. It was transferred to the Royal Canadian Mounted Police (RCMP) in 1946, and from then on was used throughout Canada in missing person and missing or wanted boat and vehicle searches, as well as for medical transfers and transportation. Its registration, CF-MPG, apparently stands for Mounted Police Goose. When it was retired in 1994, the Goose had been in continuous public service longer than any other Canadian civil aircraft.
In 1995, a campaign by the Museum and supporters in British Columbia prevented the aircraft from being exported to the United States, and led to the RCMP and the British Columbia government donating it to the Museum in recognition of its long service record.
Technical Information:
| | |
| --- | --- |
| Wing Span | 14.9 m (49 ft) |
| Length | 11.6 m (38 ft 3 in) |
| Height | 3.7 m (12 ft 2 in) |
| Weight, Empty | 2 413 kg (5,320 lb) |
| Weight, Gross | 3 402 kg (7,500 lb) |
| Cruising Speed | 282 km/h (175 mph) |
| Max Speed | 314 km/h (195 mph) at sea level |
| Rate of Climb | 454 m (1,490 ft) /min |
| Service Ceiling | 7,315 m (24,000 ft) |
| Range | 1,280 km (795 miles) |
| Power Plant | Two Pratt and Whitney R-985-14B Wasp Jr., 450 hp, radial engines |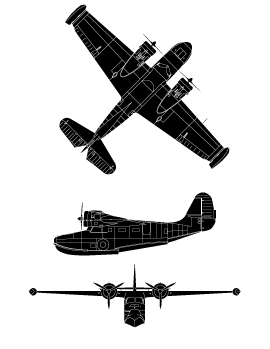 Canada Aviation and Space Museum
Manufacturer
Grumman Aircraft Engineering
Manufacturer Location
United States
Registration Number
CF-MPG