Highlights:
A Canadian four- to five-seater monoplane produced by Found Brothers Aviation Limited at Malton Airport, Toronto, Ontario from 1962 to 1965
Designed as a bush plane, it operated on floats, wheels and skis
First prototype was built in July 1960; financial difficulties delayed progress until John David Eaton president of T. Eaton Company Ltd. financed the company
FBA-2Cs were used by some Canadian operators; Georgian Bay Airways of Parry Sound, Ontario was the largest
It was smaller and more economical than the average bush planes of the time
Production of a modernized version of the FBA-2C began in 1997
Expedition Aircraft of Parry Sound, Ontario, went out of business in January 2014
First flight was on August 11, 1960 (FBA-2A)
Image Gallery:
History:
The Canadian-designed-and-built Found aircraft was developed to meet a projected demand for smaller-sized bush or utility aircraft. Two production versions were planned: the 2B with a tricycle undercarriage , and the 2C with a tail wheel. Found did not continue production of the 2B. Twenty-six 2Cs went into service with various uses and met with a mixed reception. In 1986, ten Founds were still listed in the Canadian Civil Aircraft Registry.
The Museum specimen is the aircraft used to complete final certification tests. The Found FBA-2C operated successfully on floats, wheels, and skis.
Current Location:
Reserve Hangar, Canada Aviation and Space Museum
Provenance:
Donation from Centennial College
This FBA-2C was manufactured by Found Brothers Aviation Limited at Malton Airport, Toronto, Ontario in June 1963. It was the fourth FBA-2C constructed and was used to complete final certification tests for the type, receiving Department of Transport type approval in January 1964. The aircraft was also used by Found Brothers as a demonstration aircraft until 1969, when the company closed due to a lack of financial backing.
In 1969, the aircraft was purchased by Centennial College of Scarborough, Ontario, where it was used for eight years as a ground instruction airframe in the school's Aircraft Maintenance Technician program.
Centennial College donated the Found FBA-2C to the Museum in April 1979.
Technical Information:
| | |
| --- | --- |
| Wing Span | 11 m (36 ft) |
| Length | 8.1 m (26 ft 5 in) |
| Height | 2.5 m (8 ft 4 in) |
| Weight, Empty | 703 kg (1,550 lb) |
| Weight, Gross | 1,338 kg (2,950 lb) |
| Cruising Speed | 208 km/h (129 mph) |
| Max Speed | 237 km/h (147 mph) |
| Rate of Climb | 335 m (1,100 ft) /min |
| Service Ceiling | 4,880 m (16,000 ft) |
| Range | 500 km (310 mi) |
| Power Plant | one Lycoming 0-540-B, 290 hp, horizontally opposed engine |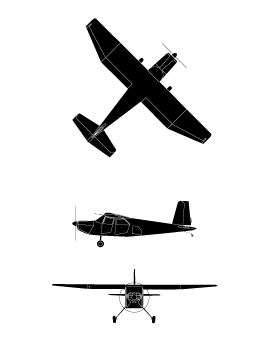 Canada Aviation and Space Museum
Manufacturer
Found Brothers Aviation Ltd.
Manufacturer Location
Canada
Registration Number
CF-OZV