Highlights:
A German fighter biplane designed in 1917 by Fokker's chief designer Reinhold Platz
Served as the preferred aircraft of the German air force during the First World War
Strong and agile, easy to manoeuvre, it proved ideal for novice aviators; had excellent control characteristics at very slow speeds; and could fly easily in thin air
Singled out postwar for destruction in the 1919 Versailles Treaty with Germany, although several were smuggled out of Germany into Holland
Flown postwar by the air forces of several countries, including Belgium, Canada, Finland, Holland, Latvia, Poland, Sweden and the U.S.
Flown briefly as a war trophy during the August 1919 Canadian National Exhibition in Toronto
First flight was in January 1918
Image Gallery:
History:
The Fokker D VII was one of First World War's best fighters. After the aircraft won the German fighter competition in January 1918, large construction contracts were awarded to Fokker, and its main competitor, Albatros, was required to manufacture D VIIs under licence. The Fokker D VII rapidly became the premier fighter of the German air force. Well-liked by its pilots and much feared by its opponents, the D VII's famous reputation was built during a remarkably short life from January to November 1918.
The D VII was strong and very manoeuvrable, simple to fly for the novice aviator, and had excellent control characteristics at very slow speeds. It could hang on its propeller and shoot upwards while other aircraft would stall and spin away. Unlike many other contemporary aircraft, it remained agile in the thin air near its service ceiling . Singled out for destruction in the Armistice Agreement, D VIIs were smuggled out of Germany into Holland after the war. Anthony Fokker "arranged" that those trains carrying D VIIs would be too long for the sidings at the Dutch border. Inspections would therefore have to be quick in order to unblock the main line.
Current Location:
First World War Exhibition, Canada Aviation and Space Museum
Provenance:
Purchase
This aircraft was built by Fokker in 1918 and was one of 142 shipped to the United States for the U.S. Air Service. Later sold for civilian use, it was featured in several movies, including Hell's Angels (1930).
The Museum purchased the aircraft in 1971, and a propeller and engine were donated in 1972 and 1975, respectively. During restoration, the Museum discovered the German air service serial number 10347/18 on the aircraft, revealing it to be a very late-production D.VII. It was most likely confiscated by Allied forces at the manufacturing plant. Restoration of the aircraft was halted in 1975, when the team began work on the Curtiss HS-2L La Vigilance.
Technical Information:
| | |
| --- | --- |
| Wing Span | 8.9 m (29 ft 2 in) |
| Length | 7 m (23 ft) |
| Height | 2.75 m (9 ft) |
| Weight, Empty | 700 kg (1,544 lb) |
| Weight, Gross | 850 kg (1,874 lb) |
| Cruising Speed | Unknown |
| Max Speed | 186 km/h (116 mph) |
| Rate of Climb | 1,000 m (3,280 ft) / 3.8 min |
| Service Ceiling | 6,980 m (22,900 ft) |
| Range | Unknown |
| Power Plant | one Daimler Mercedes D.IIIav, 160 hp, in-line engine |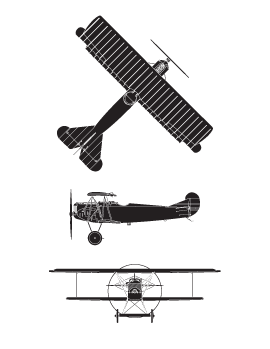 Canada Aviation and Space Museum
Manufacturer
Fokker Flugzeug-Werke GmbH
Manufacturer Location
Germany
Registration Number
10347/18