Highlights:
A light, two-seater training and utility aircraft designed and manufactured in Canada and produced from 1945 to 1949
Based on Noury N-75 prototype designed by J. Omer Noury at Stoney Creek, Ontario in 1944
Fleet Aircraft Limited acquired design rights in 1945, producing 198 aircraft from 1945 to 1947
Rights were then sold to Leavens Brothers of Toronto, who produced twenty-five aircraft from 1947 to 1949
Used to train thousands of Canadian pilots
Its name was inspired by the Curtiss JN-4 "Canuck"
Many remain in Canadian civil use today
One of the few Canadian-designed light planes produced since 1945
First flight was in late 1944 (Noury N-75)
Image Gallery:
History:
The Noury N-75 was conceived as a side-by-side two-seater training and utility airplane ready for the post-Second World War market. The design rights to the Noury N-75 were sold to Fleet in 1945, when manufacture and testing began. Some design changes were made, and the aircraft went on the market in 1946 as the Canuck. Fleet also designed skis and floats for the type. Of the 225 Canucks built before production stopped in 1949, most were sold in Canada where some were still flying in the 1990s.
The side-by-side seating in the Fleet 80 Canuck was unusual for the period even though it was a far better arrangement for instruction than placing the instructor either in front of or behind the student.
Current Location:
Reserve Hangar, Canada Aviation and Space Museum
Provenance:
Purchase
This Canuck, the 149th built, was manufactured by Fleet Aircraft Limited of Fort Erie, Ontario in 1946. It was delivered to Toronto aircraft dealer Roger Watson in September 1947. Watson sold the Canuck to Central Airways, a company owned by Robert and Tommy Wong and operated out of Toronto's Island Airport. At the time, Central Airways was the largest flight training program in Canada, and is believed to have flown more Canucks than any other operator.
After twenty-four years of service with Central Airways, the Canuck was sold to Dr. J. D. Robinson of Flesherton, Ontario in 1971. It was later purchased by Ernest Weller and then by Lloyd Howes, both of Port Loring, Ontario. The Museum bought the aircraft, complete with Fleet-designed skis and floats, in 1974.
Technical Information:
| | |
| --- | --- |
| Wing Span | 10.4 m (34 ft) |
| Length | 6.8 m (22 ft 4 in) |
| Height | 2.2 m (7 ft 1 in) |
| Weight, Empty | 389 kg (858 lb) |
| Weight, Gross | 671 kg (1,480 lb) |
| Cruising Speed | 161 km/h (100 mph) |
| Max Speed | 179 km/h (111 mph) |
| Rate of Climb | 168 m (550 ft) /min |
| Service Ceiling | 3,660 m (12,000 ft) |
| Range | 483 km (300 mi) |
| Power Plant | one Continental C-85-12J, 85 hp, horizontally-opposed engine |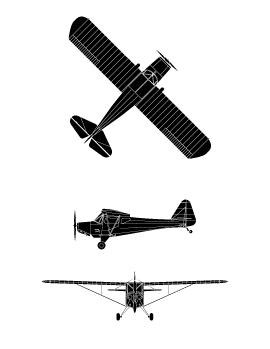 Canada Aviation and Space Museum
Manufacturer
Fleet Aircraft Company Ltd.
Manufacturer Location
Canada
Registration Number
CF-EBE