Highlights:
A Canadian-designed and built twin-engine utility biplane produced by Fleet Aircraft Limited from 1938 to 1942
Only five aircraft were produced: its lack of commercial success was likely due to its cost and engine problems
Used for different purposes by multiple owners over short periods of time (only one aircraft was in service for more than a year-and-a-half)
Intended for transport in northern Canada, it was designed to maintain and handle bulky, awkward loads
Had exceptional freight-loading facilities, with four or five large openings, including a nose door onto a large cargo compartment
Two were built to accommodate passengers as well as cargo
First flight was on February 22, 1938
Image Gallery:
History:
The Fleet 50 was planned as a twin-engine transport for use in the north. It was designed to be strong, and easy to maintain, able to handle bulky, awkward loads. Rugged simplicity was to be its essence. Only five were built. The advent of Second World War and a few misfortunes, such as one Freighter burning to the ground during a demonstration in Chicago, doomed this interesting bush plane to a short career. The last two ended their flying days in 1946.
Although there were complaints about its lack of power, the Freighter was valued for its ability to handle oversized loads. A nose-door opened to expose an unobstructed compartment running the length of the fuselage underneath the cockpit and the cargo floor. Nose-loading cargo planes became common in later years.
Current Location:
Reserve Hangar, Canada Aviation and Space Museum
Provenance:
Salvage
This Freighter, built in 1939, was the third of five produced by Fleet Aircraft Limited in Canada. Originally registered as CF-BJU, Canadian Airways used this aircraft on trial for a few months in 1939. In August 1942, it was leased to Quebec Airways. It was finally sold, in October 1942, to the RCAF, and used for training paratroopers at the Rockcliffe air base. The aircraft was moved to Trenton, Ontario in 1943, and flown by the RCAF as an air ambulance and floatplane trainer.
The Labrador Mining and Exploration Company Limited purchased the Freighter on June 14, 1944. Nine days later, a downdraft during take-off forced the aircraft onto a beach, damaging it beyond repair. The aircraft's remains were salvaged by the Museum in 1964.
The Museum also has components of the fourth 50 Freighter in its collection. This aircraft was leased by Fleet to a number of operators before being sold to Austin Airways in 1945. In 1946, it was destroyed by engine fire.
Technical Information:
| | |
| --- | --- |
| Wing Span | 13.7 m (45 ft) |
| Length | 10.9 m (35 ft 10 in) |
| Height | 4 m (13 ft 1 in) |
| Weight, Empty | 2,340 kg (5,155 lb) |
| Weight, Gross | 3,775 kg (8,325 lb) |
| Cruising Speed | 206 km/h (128 mph) |
| Max Speed | 238 km/h (148 mph) |
| Rate of Climb | 305 m (1,000 ft) /min |
| Service Ceiling | 4,570 m (15,000 ft) |
| Range | 1,046 km (650 mi) |
| Power Plant | two Jacobs L-6MB, 330 hp, radial engines |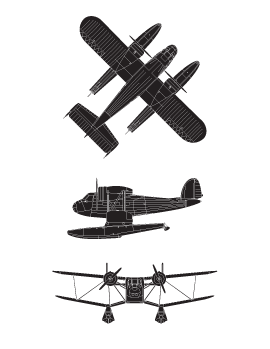 Canada Aviation and Space Museum
Manufacturer
Fleet Aircraft Ltd.
Manufacturer Location
Canada
Registration Number
CF-BXP