Highlights:
A two-seater, training biplane designed by the Consolidated Aircraft Corporation of Buffalo, New York and produced from 1928 to 1941
Over 400 Finches were built by Fleet Aircraft Limited of Fort Erie, Ontario between 1939 and 1941
A derivative of the Fleet 10, the Finch was designed specifically as an RCAF trainer
Used in Elementary Flying Training Schools as part of the British Commonwealth Air Training Plan
Entered service with open cockpits; a sliding canopy was added to accommodate Canadian winters
From 1943, RCAF biplane trainers, like Finches, were gradually replaced by monoplane trainers
Postwar, surplus Finches were popular for instruction and private flying
First flight was in 1928 (Consolidated M.14)
Image Gallery:
History:
Fleet trainers were made in Canada from 1930 to 1941 in models 2, 7, 10, and 16 for the RCAF and civil operators, and were exported to nine countries. The models differed in their engines and in the minor changes made to the undercarriage and control surfaces. The model 16 was designed especially for primary pilot training in the RCAF. From 1943 on, the Finch was gradually replaced by the Fairchild Cornell. After the war, many were sold as war surplus for civilian use and a few are still flying in the 1990s.
The Finch served in 12 elementary flying training schools in Canada. Like the Tiger Moth, the Finch was equipped for Canadian winter operations with a sliding canopy over the two cockpits.
Current Location:
British Commonwealth Air Training Plan Exhibition, Canada Aviation and Space Museum
Provenance:
Transfer from the Royal Canadian Air Force
This Finch was manufactured by Fleet Aircraft Limited in Fort Erie, Ontario in July 1940. It was taken on strength by the RCAF and used at Elementary Flying Training Schools in London, Ontario and Cap-de-la-Madeleine, Quebec. Put in long-term storage in St-Jean, Quebec in 1943, it was passed to the War Assets Commission in 1945, sold in 1947 to two private American owners, and given the civilian registration NC1327V in New York.
The Finch returned to Canada in 1964, when it was purchased by Dr. D.A. McLean of Toronto and restored in its original RCAF markings by No. 400 Reserve Squadron at Downsview Airport. In June 1966, after restoration, McLean donated the aircraft to the RCAF's historic aircraft collection. The Finch was flown to Ottawa in September and then transferred to the Museum. As part of the Museum's collection, it was flown on Air Force Day in 1967 and displayed at Toronto's Canadian National Exhibition in 1970.
This Finch was missing a cockpit enclosure until one was donated in 1976 by Clifford Glenister of Toronto.
Technical Information:
| | |
| --- | --- |
| Wing Span | 8.5 m (28 ft) |
| Length | 6.6 m (21 ft 8 in) |
| Height | 2.4 m (7 ft 9 in) |
| Weight, Empty | 509 kg (1,122 lb) |
| Weight, Gross | 907 kg (2,000 lb) |
| Cruising Speed | 137 km/h (85 mph) |
| Max Speed | 167 km/h (104 mph) |
| Rate of Climb | 305 m (1,000 ft) / 2.3 min |
| Service Ceiling | 3,200 m (10,500 ft) |
| Range | 483 km (300 mi) |
| Power Plant | one Kinner B-5, 125 hp, radial engine |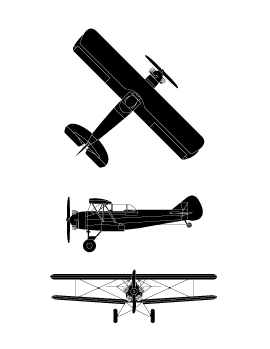 Canada Aviation and Space Museum
Manufacturer
Fleet Aircraft Ltd.
Manufacturer Location
Canada
Registration Number
4510 (RCAF)