Highlights:
A single-engine, torpedo bomber biplane designed and produced by the Fairey Aviation Company Limited in the U.K. between 1936 and 1944
Although similar in appearance to First World War aircraft, it was used by the Royal Navy's Fleet Air Arm until the end of the Second World Wars
Flown in Canada from 1943 by the Royal Navy in Dartmouth and Yarmouth, Nova Scotia
Flown from British aircraft carriers, shore bases and merchant aircraft carriers
Known as "the stringbag" because of the variety of things it could (and was expected to) carry
Took part in crucial naval battles in 1940 and 1941, including the sinking of the German battleship Bismarck
First flight was in 1933 (Fairey TSR I)
Image Gallery:
History:
Little different from the biplanes of First World War and totally obsolete by Second World War, the Fairey Swordfish remarkably remained operational until after 1945. Slow and almost defenceless, it was a successful torpedo bomber against light opposition. Swordfish crippled the Italian fleet at Taranto and helped to sink the German battleship Bismarck. Its main advantage was strength, ease of maintenance, and viceless flying qualities. Swordfish could be flown from aircraft carriers, even in rough seas. By the end of 1941, the wartime Swordfish was confined mainly to anti-submarine operations.
In Canada, Swordfish operated from the Naval Gunnery School in Yarmouth and the Royal Navy Station at Dartmouth, Nova Scotia. In 1946, Fleet Requirement Unit 743 (RCN) was equipped with Swordfish. Its naval nickname was "Stringbag".
The Fairey Albacore went into service early in the war, but proved little better than the Swordfish, which it was intended to replace. In Canada, the open cockpits of some Swordfish were fitted with sliding hoods for more comfortable winter operations.
Current Location:
Reserve Hangar, Canada Aviation and Space Museum
Provenance:
Purchase
The exact identity of this Swordfish is unknown, but it was probably manufactured by Blackburn Aircraft Company Limited in Great Britain for the Royal Navy, and shipped to Canada.
It was purchased in the early postwar years by Tillsonburg, Ontario farmer Ernest V. Simmons, who bought a considerable amount of surplus war material, including around eight Fairey Swordfish. Simmons kept the aircraft on his farm and few were sold during his lifetime. He did, however, sell one Swordfish to the Canadian War Museum on March 22, 1965. The aircraft was restored in Eastern Passage, Nova Scotia by Fairey Aviation of Canada Limited and the Royal Canadian Navy.
It was purchased by the Museum in 1965 and assigned a fictitious serial number corresponding to that of a Swordfish flown in Canada during the Second World War.
Technical Information:
| | |
| --- | --- |
| Wing Span | 13.9 m (45 ft 6 in) |
| Length | 10.9 m (35 ft 8 in) |
| Height | 3.8 m (12 ft 4 in) |
| Weight, Empty | 2,132 kg (4,700 lb) |
| Weight, Gross | 3,406 kg (7,510 lb) |
| Cruising Speed | 185 km/h (115 mph) |
| Max Speed | 224 km/h (139 mph) |
| Rate of Climb | 1,520 m (5,000 ft) / 10 min |
| Service Ceiling | 2,900 m (9,500 ft) |
| Range | 879 km (546 mi) |
| Power Plant | one Bristol Pegasus XXX, 750 hp, 9-cylinder radial engine |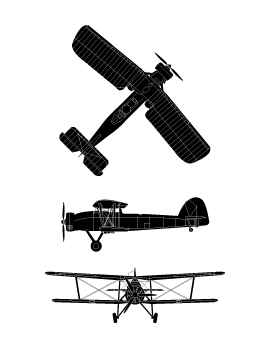 Canada Aviation and Space Museum
Manufacturer Location
Great Britain
Registration Number
NS122 (RCN)