Highlights:
A British single-engine light bomber designed and built by the Fairey Aviation Company between 1936 and 1940
First operational aircraft to enter service with a Rolls-Royce Merlin piston engine
Used as bomber at the beginning of the Second World War
Proved unsuitable for combat duty; converted to trainers for the duration of the war
From August 1939, 739 Battles were sent to Canada as bombing and gunnery trainers under the British Commonwealth Air Training Plan
"IT" model has Bristol Type I turret for turret-gunnery training
Retired by the RCAF after the Second World War; very few were sold as surplus or remain today
First flight was in March 1936
Image Gallery:
History:
The Fairey Battle was a disaster as a light day bomber, being too slow, vulnerable and under-gunned for air warfare in Second World War. Those surviving the early war years were reallocated to training duties. From August 1939, 739 Battles served in Canada as trainers. Most were used for bombing and gunnery training, with a small number equipped as target tugs. Some aircraft had the rear cockpit replaced with a Bristol turret for turret-gunnery training.
After First World War, relatively slow, light bombers were considered militarily feasible until, early in Second World War, Fairey Battles were blown from the sky by fast single-seat fighters and anti-aircraft fire. Their place in the military armoury was filled by fighter aircraft which were fast and could effectively defend themselves after dropping their bomb.
Current Location:
Reserve Hangar, Canada Aviation and Space Museum
Provenance:
Transfer from the Royal Canadian Air Force
This Battle was manufactured in 1940 as a pilot trainer by the Fairey Aviation Company Limited, in Stockport, England, and was immediately delivered to Canada. It was taken on strength by the RCAF in January 1941 as a standard Battle I, serving at No. 31 Service Flying School in Kingston, Ontario, until December of that year, when it was stored.
In December 1942, it was converted to a turret-gunnery trainer at St. Jean, Quebec, with a Bristol turret used on the Canadian-made Bolingbroke. It served briefly at No. 3 Bombing and Gunnery School in Macdonald, Manitoba, and was stored in April 1943. In 1946, the Battle was designated for public display, and was stored again, beginning in July 1950.
It was eventually refurbished by the RCAF at Calgary in 1963, and transferred to the RCAF historical aircraft collection at Rockcliffe Airport in 1964.
Technical Information:
| | |
| --- | --- |
| Wing Span | 16.5 m (54 ft) |
| Length | 12.9 m (42 ft 4 in) |
| Height | 4.7 m (15 ft 6 in) |
| Weight, Empty | 3,015 kg (6,647 lb) |
| Weight, Gross | 4,895 kg (10,792 lb) |
| Cruising Speed | 322 km/h (200 mph) |
| Max Speed | 406 km/h (252 mph) |
| Rate of Climb | 1,520 m (5,000 ft) / 4 min 6 sec |
| Service Ceiling | 7,620 m (25,000 ft) |
| Range | 1,609 km (1,000 mi) |
| Power Plant | one Rolls-Royce Merlin III, 1,030 hp, Vee engine |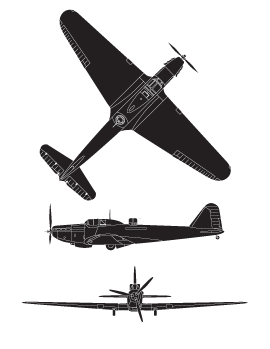 Canada Aviation and Space Museum
Manufacturer
Fairey Aviation Company Ltd.
Manufacturer Location
Great Britain
Registration Number
R7384 (RAF)