Highlights:
A single-engine utility aircraft seating one pilot and six passengers designed by Fairchild Airplane Manufacturing Corporation in the U.S.; around thirty were produced in 1928
Developed for use in remote locations: Fairchild FC-2s, 2Ws and 2W2s were significant in opening up the Canadian North in the 1920s and 1930s
Used in freight operations in the North and mail delivery and passenger flights in the south
FC-2Ws, and later Fairchild 71s, were used by the RCAF for photo surveys and communication
Used in the U.S. and Canada, and also in Mexico and China, as well as in flights over the Andes (Chile–Argentina)
First flight was in June 1926 (FC-1)
Image Gallery:
History:
Unable to find a suitable aircraft for their aerial-survey business, Fairchild designed a tough, simple aircraft of their own, the Model FC-1, which was shortly improved upon by the FC-2 and subsequent versions. Created to operate in remote areas, this aircraft series suited the Canadian environment. The RCAF used Fairchilds chiefly for photographic surveys and communication. Civil use in Canada involved largely freight and passengers in the north, and passengers in the south.
Much of the work to open up Canada᾿s north in the 1920s and 1930s was performed by Fairchild FC-2s, 2Ws, and 2W-2s. FC-2W-2s flew Canada's first international passenger service between Montreal and New York. In 1928, two Canadian FC-2W-2s were the first to reach the Junkers W.33 Bremen, which had crashed in the Strait of Belle Isle after the first east-to-west trans-Atlantic flight. The Fairchild's wings fold back for convenient storage, which meant that in the Arctic the airplane could be put undercover with a small snowfence and a tarpaulin.
Current Location:
Bush Flying Exhibition, Canada Aviation and Space Museum
Provenance:
Donation from V. Kauffman, Aero Service Corp.
This FC-2W2 was manufactured in 1928 by Fairchild Airplane Manufacturing Corporation in the United States. It was purchased in the same year by Brock and Weymouth Incorporated, a U.S.-based company that was acquired by the Aero Service Corporation the following year. The aircraft was used for aerial surveys until the early 1940s.
It was then purchased by an aircraft broker but, following an engine failure on take-off and damages from the ensuing forced landing, it remained with the Aero Service Corporation. In 1962, the company's founder and president, Virgil Kauffman, donated the aircraft to the Museum. It has been restored in the markings of a Canadian Transcontinental Airways FC-2W2.
Technical Information:
| | |
| --- | --- |
| Wing Span | 15.2 m (50 ft) |
| Length | 10.1 m (33 ft 2 in) |
| Height | 2.9 m (9 ft 6 in) |
| Weight, Empty | 1,239 kg (2,732 lb) |
| Weight, Gross | 2,495 kg (5,500 lb) |
| Cruising Speed | 174 km/h (108 mph) |
| Max Speed | 216 km/h (134 mph) |
| Rate of Climb | 267 m (875 ft) /min |
| Service Ceiling | 4,570 m (15,000 ft) |
| Range | 1,102 km (685 mi) |
| Power Plant | one Pratt & Whitney R-1340 Wasp B, 420 hp, radial engine |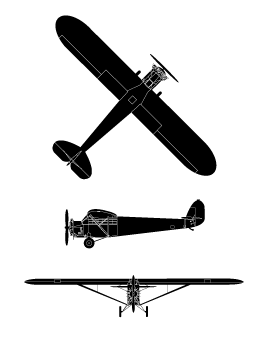 Canada Aviation and Space Museum
Manufacturer
Fairchild Airplane Mfg Corp.
Manufacturer Location
United States
Registration Number
G-CART