Highlights:
A U.S., twin-engine airliner designed by Douglas Aircraft Company Incorporated and produced from 1936 to 1954
Usually seated twenty-one passengers and two crew but could carry up to thirty-two passengers
Developed in 1935 as a derivative of the DC-2 and could carry fourteen berths (for overnight flights)
Became one of the most successful airliners of all time, revolutionizing air transport for decades
Served with airline companies and military forces around the world
16,000 DC-3s were manufactured primarily as military transport planes (5,400 in the U.S.S.R. and Japan)
About 230 listed in the Canadian and American civil aircraft registers in early 2021
First flight was on December 17, 1935
Image Gallery:
History:
The DC series of aircraft was developed in response to the challenge posed by the Boeing 247 and culminated in the magnificent DC-3, the most successful air transport of all time. The DC-3 met with immediate enthusiasm as the first airliner in the United States able to work at a profit without government subsidy. By 1939 the DC-3 accounted for 90% of world airline trade. Almost indestructible, large numbers of DC-3s continued to fly in the 1990s, carrying passengers and cargo.
The DC-3 came into being almost by default. Douglas built a larger version of the DC-2 to contain berths for night flights. The result, called the Douglas Sleeper Transport, had a longer, wider fuselage. The DST was a limited success, but when its big fuselage was filled with passenger seats instead of berths, the DC-3 was born. A combined total of about 5400 DC-3s were built under licence in Japan and Russia.
Current Location:
Airlines Exhibition, Canada Aviation and Space Museum
Provenance:
Donation from Goodyear Corporation
This DC-3 was manufactured in 1942 by Douglas Aircraft Company Incorporated. It was completed as a DC-3 airliner after to the attacks on Pearl Harbor in 1941, and later served with the U.S. Army Air Forces as a C-49J. In 1945, it was sold to Trans-Canada Air Lines, becoming the first DC-3 operated by that airline.
Goodyear Tire and Rubber Company bought the aircraft in 1948 and refinished it for VIP transportation. It served with Goodyear until 1983, when the company donated it to the Museum.
Technical Information:
| | |
| --- | --- |
| Wing Span | 29.1 m (95 ft 6 in) |
| Length | 19.6 m (64 ft 5 in) |
| Height | 5.2 m (16 ft 11 in) |
| Weight, Empty | 8,300 kg (18,300 lb) |
| Weight, Gross | 11,430 kg (25,200 lb) |
| Cruising Speed | 274 km/h (170 mph) |
| Max Speed | 381 km/h (237 mph) |
| Rate of Climb | 335 m (1,100 ft) /min |
| Service Ceiling | 7,010 m (23,000 ft) |
| Range | 1,650 km (1,025 mi) |
| Power Plant | two Pratt & Whitney R-1830 Twin Wasp, 1,200 hp, engines |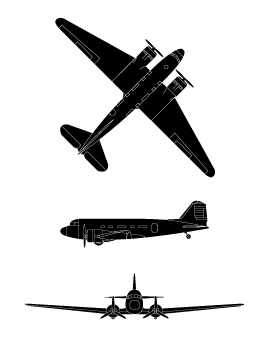 Canada Aviation and Space Museum
Manufacturer
Douglas Aircraft Company Inc.
Manufacturer Location
United States
Registration Number
C-FTDJ