Highlights:
A sailplane designed in Canada in 1947 by Waclaw Czerwinski and Beverley Shenstone
Designed for a British Gliding Association competition for a high-performance, two-seater sailplane: it was not successful
Both designers were engineers associated with Avro Canada Limited: Czerwinski worked in Avro's Aircraft Division and Shenstone was a government representative at the factory
Two were built: one in Canada (begun in 1948), the other in the U.K. (begun in 1949)
British Harbinger was completed and flown in 1958 by Fred Coleman
Canadian Harbinger was completed only in 1975 and first flown by retired RCAF Wing Commander Arthur N. Le Cheminant
First flight was in 1958
Image Gallery:
History:
The Harbinger is a sailplane (glider) developed in Toronto in response to a 1947 design competition for a two-seat sailplane. Of the many designs submitted, the Harbinger was one of the few built. The first Harbinger was built and flown in England in 1958, which resulted in minor design changes. Construction of a Harbinger in Canada started in 1949 but this aircraft did not fly until 1975. Although well ahead of its time in 1947, by 1975 the Harbinger required further modification and development was discontinued.
The final assembly of the Harbinger began at Pendleton, Ontario in 1975. Altogether, over 30 flights were made, the longest being over three hours. The aircraft flew a total of 25 hours and 45 minutes.
Current Location:
Reserve Hangar, Canada Aviation and Space Museum
Provenance:
Donation from A.N. LeCheminant and R. Noonan
Two gliding enthusiasts John Ames and Henry Dow began building this Harbinger in 1948, using Czerwinski and Shenstone's 1947 plans. Some of the wing structure, fuselage and tail had been completed by 1951, when Ames left Toronto and their work stopped. The components were moved to Albie Pow's woodworking shop in London, Ontario. Pow continued to work on the aircraft for another two years.
The existing components were purchased by Richard Noonan and Wing Commander Arthur N. Le Cheminant and moved to Gimli, Manitoba in 1957. The two men all but finished the fuselage and the wing spars that year. In 1958 Le Cheminant moved to Ottawa with the incomplete aircraft. He completed and flew the sailplane in 1975. By the time it was retired in 1977, the Harbinger had flown more than thirty times. Le Cheminant and Noonan donated the aircraft to the Museum on July 31, 1978.
Technical Information:
| | |
| --- | --- |
| Wing Span | 18.3 m (60 ft) |
| Length | 7.2 m (23 ft 9 in) |
| Height | 1.85 m (6 ft) |
| Weight, Empty | 304 kg (670 lb) |
| Weight, Gross | 467 kg (1,030 lb) |
| Cruising Speed: | 64 km/h (40 mph) |
| Max Speed | 209 km/h (130 mph) |
| Rate of Climb | N/A |
| Service Ceiling | 1,646 m (5,400 ft) |
| Range | N/A |
| Power Plant | None |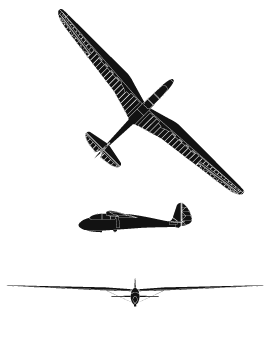 Canada Aviation and Space Museum
Manufacturer Location
Canada
Registration Number
C-FZCS