Highlights:
Designed in 1917 as a coastal patrol flying boat for the U.S. Navy during the First World War
Served as Canada's first bush plane after the war, and was the main aircraft used for bush flying in Canada until 1927
Pioneered bush flying in Canada: it could take off and land on remote lakes and rivers, providing access to Canada's northern landscapes
Achieved many "firsts," including first forestry patrol, 1919; first aerial timber survey, 1919; and first regular airmail service, 1924
First flight was in 1917
Image Gallery:
History:
The HS-2L was the final version of a series of patrol flying boats developed in the last two years of First World War. The United States Navy flew HS-2Ls on anti-submarine patrols from bases in Nova Scotia. At the end of the war twelve HS-2Ls were donated to Canada, and many others were purchased as war surplus.
The HS-2L was Canada's first bush aircraft and was the predominant Canadian bush plane until 1926 or 1927. Operators of the HS-2L established the traditions of Canadian bush flying.
HS-2L aircraft flew the first forestry patrols, made the first aerial timber survey in 1919, staked the first mining claim using an aircraft in 1920, and in 1924 was used to establish the first scheduled air service and the first regular air mail service in Canada.
Current Location:
Bush flying Exhibition, Canada Aviation and Space Museum
Provenance:
Salvage by the Museum
This is the only complete HS-2L in the world. It is a reconstruction of G-CAAC La Vigilance, which belonged to Laurentide Air Service Limited, the world's first bush- flying company. The original La Vigilance was the company's first aircraft; it was built in 1918 and made the first bush flight in Canada in 1919. That same year, Stuart Graham, Canada's first professional bush pilot and a member of Canada's Aviation Hall of Fame, began his civilian career in La Vigilance, and his wife, Madge Graham, became the first Canadian woman to participate in flight when she accompanied him between Nova Scotia and Quebec.
On September 2, 1922 La Vigilance crashed into Foss Lake, Ontario, where it remained until 1967, when Donald Campbell of Kapuskasing reported the location of the wreck at the bottom of the lake. The hull, along with metal parts and fittings from the aircraft, was retrieved by the Museum during a salvage operation between 1968 and 1969. The original hull was preserved separately and is displayed next to the reconstructed aircraft, which was built using parts from three different HS-2Ls. Restoration of this HS-2L lasted from 1970 until 1986, making it the largest and longest restoration project the Museum has undertaken.
Technical Information:
| | |
| --- | --- |
| Wing Span | 22.6 m (74 ft 19/32 in) |
| Length | 11.9 m (39 ft) |
| Height | 5.7 m (18 ft 9 1/4 in) |
| Weight, Empty | 1,950 kg (4,300 lb) |
| Weight, Gross | 2,918 kg (6,432 lb) |
| Cruising Speed | 105 km/h (65 mph) |
| Max Speed | 137 km/h (85 mph) |
| Rate of Climb | 550 m (1,800 ft) / 10 min |
| Service Ceiling | 2,800 m (9,200 ft) |
| Range | 830 km (517 mi) |
| Power Plant | one Liberty, 360 hp, V-12 engine |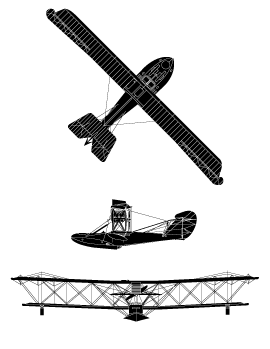 Canada Aviation and Space Museum
Manufacturer
Curtiss Aeroplane and Motor Company
Manufacturer Location
United States
Registration Number
G-CAAC