Highlights:
A five-seater, twin-engine, small transport monoplane made by U.S. Cessna Aircraft Company, Inc. from 1939 to the early 1940s
During the Second World War, the RCAF received 826 Cranes to instruct students of the British Commonwealth Air Training Plan's Service Flying Training Schools (SFTS)
After the war, sold as surplus in Canada and the U.S. and used in light transport
Known as "the Wichita Wobbler," "the Bamboo Bomber" and, in U.S. service, as "the Bobcat"
First flight was in March 1939
Image Gallery:
History:
The Crane was developed as an inexpensive utility transport. In 1940 the RCAF ordered Cranes to supplement the Avro Anson for training pilots on twin-engine aircraft. It is said that this order ensured Cessna's survival. The RCAF received a total of 826 Cranes, all of which operated as pilot trainers in Western Canada. The type continued in the RCAF service until 1947, after which many were sold to private operators.
The Crane had many nicknames, including "Wichita Wobbler", and "Bamboo Bomber". In American service it was called the "Bobcat". The Jacobs radial engines were referred to as "Shakey Jakes". Even though the Crane was not an ideal training aircraft, due in part to its poor single-engine performance and load-carrying capability, it adequately filled the training needs of its time.
Current Location:
Reserve Hangar, Canada Aviation and Space Museum
Provenance:
Transfer from the Royal Canadian Air Force
This Crane was manufactured by Cessna Aircraft Company, Inc., at Wichita, Kansas in 1941. It was delivered to the RCAF in January 1942 and served initially with No. 15 SFTSl in Claresholm, Alberta and later with No. 12 SFTS in Brandon, Manitoba. It was loaned to Prairie Airways Limited of Moose Jaw, Saskatchewan at the end of June 1943. The aircraft was stored until selected for display in Portage la Prairie, Manitoba in June 1946, and from 1950 to 1962 it was stored in Macdonald, Manitoba.
In April 1962 the Crane was part of an Air Force Day display in Ottawa. It was shipped to the RCAF's historic aircraft collection at Rockcliffe airport in 1964, and transferred to the Museum in January 1965.
Technical Information:
| | |
| --- | --- |
| Wing Span | 12.8 m (41 ft 11 in) |
| Length | 10 m (32 ft 9 in) |
| Height | 2.8 m (9 ft 4 in) |
| Weight, Empty | 1,587 kg (3,500 lb) |
| Weight, Gross | 2,313 kg (5,100 lb) |
| Cruising Speed: | 266 km/h (165 mph) |
| Max Speed | 298 km/h (185 mph) |
| Rate of Climb | 365 m (1,200 ft) /min |
| Service Ceiling | 5,490 m (18,000 ft) |
| Range | 1,207 km (750 mi) |
| Power Plant | two Jacobs L-4MB, 225 hp, radial engines |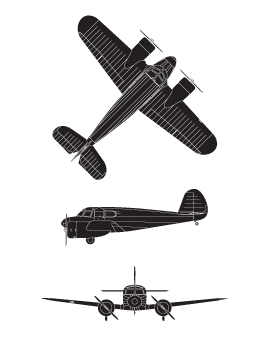 Canada Aviation and Space Museum
Manufacturer
Cessna Aircraft Company Inc.
Manufacturer Location
United States
Registration Number
8676 (RCAF)