Highlights:
A Canadian corporate jet designed and produced by Canadair Limited (later a part of Bombardier Aerospace) beginning in 1978
Redesign of the LearStar 600, which was conceived by William Lear (creator of the Learjet)
World's first wide-bodied corporate jet aircraft and one of the first aircraft fitted with winglets and a supercritical airfoil
Replaced the Lockheed Jetstar as Canadian government's air transport
Led to the development of the Canadair Regional Jet airliner
A 601 version set a record when it flew around the world in less than fifty hours in 1984
First flight was on November 8, 1978
Image Gallery:
History:
The Challenger is one of the best long-range, jet-powered business aircraft in the world. It owes its origins to a project initiated in the 1970s by the American William Lear, creator of the revolutionary Learjet.
Montreal-based Canadair completely redesigned the aircraft to produce the prototype of the Challenger: the world's first wide-bodied business aircraft. It made its inaugural flight on 8 November 1978. The Challenger program was slow to get under way but, recognizing the aircraft's potential, Bombardier decided in 1986 to purchase Canadair.
Over the years, subsequent versions of the Challenger have been fitted with improved engines and additional fuel tanks, as well as increasingly sophisticated instrumentation. More than 680 Challenger aircraft were produced between 1978 and 2005; they have served in every part of the globe. The prototype of a new version of the Challenger began flying in January 2006.
Current Location:
Business Jet Exhibition, Canada Aviation and Space Museum
Provenance:
Donated by Bombardier
The third prototype of the original production version, this Challenger was manufactured by Canadair Limited in Montreal in 1979. It was test flown in July 1979.
Between 1981 and 1982, it was fitted with new engines and had winglets added to its wing tips, to become the prototype of the second production version, the Challenger 601. Between 1993 and 1994, the aircraft was converted for use as a prototype for the third production version, the Challenger 604, which had a longer range than previous models. By this time Canadair had been purchased by Bombardier. The Challenger was modified one last time between 1999 and 2004. In this iteration, it was used to build expertise in the design of fly-by-wire control systems.
Bombardier donated the aircraft to the Museum in 2005. It was flown to Rockcliffe airport in 2006. It is the second oldest Challenger in existence.
Technical Information:
| | |
| --- | --- |
| Wing Span | 19.61 m (64 ft 4 in) |
| Length | 20.85 m (68 ft 5 in) |
| Height | 6.3 m (20 ft 8 in) |
| Weight, Empty | 12,075 kg (26,630 lb) |
| Weight, Gross | 21,860 kg (48,200 lb) |
| Cruising Speed | 851 km/h (528 mph) |
| Service Ceiling | 12,500 m (41,000 ft) |
| Range | 7,520 km (4,100 mi) |
| Power Plant | Two General Electric CF34-3A turbofan engines, 4,180 kg (9,220 lb) static thrust |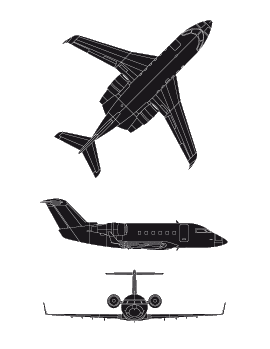 Canada Aviation and Space Museum
Manufacturer
Canadair Ltd.
Manufacturer Location
Canada
Registration Number
C-GCGT