Highlights:
A Canadian-built transport aircraft produced by Canadair Limited from 1946 to 1950
Closely related to U.S.-designed Douglas C-54/DC-4 and DC-6 aircraft but fitted with British engines
Served RCAF and airlines (including Trans-Canada Air Lines) on transatlantic and domestic routes
Known as a reliable if rather noisy aircraft
Civilian version fitted with cabin pressurization system for high-altitude operations
Employed by the RCAF in the Korean War to airlift supplies across the Pacific Ocean
In 1960 provided aid to earthquake victims in Morocco and Chile, and supported the UN mission in the Congo
First flight was on July 15th, 1946
Image Gallery:
History:
The North Star was a Canadian development of the Douglas C-54/DC-4, with some features of the DC-6. The aircraft were equipped with Rolls Royce Merlin engines. The North Star served dependably with Trans-Canada Air Lines, Canadian Pacific Airlines, British Overseas Airways Corporation (BOAC), and the RCAF. The final version of the North Star was the C-5 with radial engines. Only one was built. Many North Stars continued to fly with small commercial operators after retirement from major carriers. RCAF North Stars were retired in 1966.
Civilian North Stars were pressurized while RCAF versions were not. Passengers found them very uncomfortable because of the noisy exhaust system of the original in-line engines. A special cross-over exhaust was developed by T.C.A. in a partially successful attempt to lower noise levels. The RCAF made no attempt to quieten their North Stars.
Current Location:
Reserve Hangar, Canada Aviation and Space Museum
Provenance:
Transfer from the Royal Canadian Air Force
This North Star was manufactured in 1948 by Canadair Limited in Montreal, Quebec and was delivered to the RCAF in March of that year. It spent its entire career with No. 426 Squadron.
Starting in 1950 the aircraft was used in Operation Hawk to transport supplies across the Pacific during the Korean War. On these missions, it flew from McChord Air Force Base in Tacoma, Washington to Shemya, in the Aleutian Islands and then Japan.. The aircraft was also used for Red River flood relief in Manitoba, in northern resupply efforts and in UN peacekeeping missions during the 1950s. It became a transport trainer in 1962.
This North Star was one of two that took part in a ceremony to mark the official "stand down" of the type in December 1965. It was retired and transferred to the Museum in 1966. It is the only North Star left.
Technical Information:
| | |
| --- | --- |
| Wing Span | 35.8 m (117 ft 6 in) |
| Length | 28.6 m (93 ft 9 1/2 in) |
| Height | 8.4 m (27 ft 6 in) |
| Weight, Empty | 19,730 kg (43,500 lb) |
| Weight, Gross | 33,110 kg (73,000 lb) |
| Cruising Speed | 325 mph (523 km/h) |
| Max Speed | 568 km/h (353 mph) |
| Rate of Climb | 296 m (972 ft) /min |
| Service Ceiling | 10,970 m (36,000 ft) |
| Range | 4,830 km (3,000 mi) |
| Power Plant | four Rolls-Royce Merlin 622, 1760 hp, Vee engines |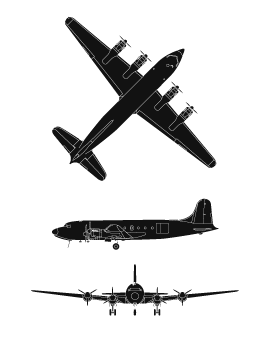 Canada Aviation and Space Museum
Manufacturer
Canadair Ltd.
Manufacturer Location
Canada
Registration Number
17515 (RCAF)