Highlights:
A U.S. single-seater, ultralight, amphibious kit aircraft manufactured by Adventure Aviation Incorporated from 1988 to 1998
An amphibious flying boat with wing-mounted floats and retractable landing gear for operating on land
Among the first ultralight amphibians available to the recreational flying community
Original Buccaneer won EAA's Best New Design award in the Ultralight category in 1984
Hundreds of SXs and two-seater Buccaneer IIs were flown in North America in the 1990s
Buccaneer variants were manufactured by numerous U.S. firms from 1984 to 1998; derivatives are presently manufactured by Aero Adventure Aviation of Rockledge, Florida
First flight was in 1984
Image Gallery:
History:
The modern ultra-light movement that began during the late 1970s was a direct consequence of the product liability costs affecting the general aviation industry at that time. The escalating cost of small private aircraft made them unaffordable to many who wished to take up recreational flying. With the growth of the ultra-light aircraft movement, a cheaper alternative became available. Today, ultra-light pilots may well be the fastest growing group of aviators in Canada.
The Buccaneer was one of the first ultra-light amphibians made available to the recreational flying community. An amphibian aircraft is capable of taking off and landing on either land or water. On the Buccaneer, a small retractable landing gear is mounted in the hull for land operations; this gear is retracted when the aircraft is operated from water and a pair of wing-mounted floats gives the aircraft stability.
Current Location:
Reserve Hangar, Canada Aviation and Space Museum
Provenance:
Donation
This Buccaneer SX was assembled in 1992 from a kit manufactured by Advanced Aviation Incorporated of Orlando, Florida and purchased through the company's Canadian distributer, Buzzman Enterprises Incorporated, of Holland Landing, Ontario.
During its career, the Buccaneer SX was flown primarily at Winchester, Ontario (in the Ottawa area) by its owner, Arleigh Vincent. The aircraft was dismantled and then stored at Winchester airport until Vincent donated it to the Museum in 2003.
Technical Information:
| | |
| --- | --- |
| Wing Span | 9 m (29 ft 8 in) |
| Length | 6.1 m (20 ft 2 in) |
| Height | 1.8 m (6 ft) |
| Weight, Empty | 153 kg (338 lb) |
| Weight, Gross | 284 kg (625 lb) |
| Cruising Speed | 105 km/h (65 mph) |
| Max Speed | 130 km/h (80 mph) |
| Rate of Climb | 335 m (1,100 ft) /min |
| Service Ceiling | 4,270 m (14,000 ft) |
| Range | 290 km (180 mi) |
| Power Plant | one Rotax 503, 46 hp, inline two-stroke piston engine |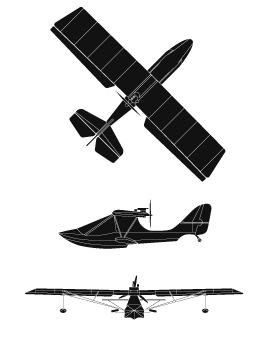 Canada Aviation and Space Museum
Manufacturer
Kit from Advanced Aviation Inc.
Manufacturer Location
Orlando, Florida
Registration Number
C-IDWT