Highlights:
A U.S. twin-engine tandem-rotor, transport, and search-and-rescue helicopter designed and produced by the Vertol division of the Boeing Company from 1962 to 1971
Canadian-used version of the Boeing Vertol CH-46 Sea Knight, a helicopter commonly known as the Phrog
Served with Canadian Army, RCAF and Canadian Forces from 1963 to 2004; its Army variant (known as Voyageur) was later converted to the Labrador
Capable of landing on water due to its watertight hull
Carried up to eighteen people and featured a side-mounted rescue hoist and a cargo hook
Assisted in July 1996 Operation Saguenay in Quebec, in which 14,000 people were evacuated from flood-ravaged homes
First flight was in 1958
Image Gallery:
History:
This aircraft is a twin-engine, tandem-rotor search and rescue (SAR) helicopter used by the Canadian Forces from 1963 until 2004. It was a variant of the Boeing Vertol CH-46 Sea Knight designed and built in the United States. A search and rescue version was purchased by the Royal Canadian Air Force in the early 1960s and became known as the Labrador. Soon after, the Canadian Army acquired a troop and cargo version known as the Voyageur. In the mid-1970s, these army machines were replaced by CH-147 Chinook heavy lift and transport helicopters and the Voyageurs were transferred to the air force when Air Command was formed in 1975. They joined the Labradors on search and rescue duties and all were modified to a common search and rescue standard.
Current Location:
Helicopters Exhibition, Canada Aviation and Space Museum
Provenance:
Donated by the Canadian Forces
This Labrador was manufactured for the RCAF in 1963 by the Boeing Company's Vertol division in Morton, Pennsylvania. It was the first Labrador used by the Canadian military. Its entire career was spent as a search-and-rescue (SAR) helicopter. Taken on strength in September 1963, the Labrador went to No. 102 Composite Unit in Trenton, Ontario, which became No. 424 Squadron in 1968. Severely damaged by fire in July 1969, it was repaired and returned to service. The Labrador was part of a detachment moved to Torbay, Newfoundland in 1977. This detachment became No. 103 Rescue Unit when it moved to Gander, Newfoundland later that year. The Labrador went back to Trenton in the early 2000s.
The last Canadian Forces Labrador to serve, it was retired in 2004. The Canadian Forces' donation of the aircraft to the Museum in July 2004 was an event that marked the retirement of the Labrador fleet.
Technical Information:
| | |
| --- | --- |
| Rotor diameter | 15.2 m (50 ft) |
| Length (rotors turning) | 25.4 m (83 ft 4 in) |
| Height | 5.1 m (16 ft 8 in) |
| Weight, Empty | 5,104 kg (11,251 lb) |
| Weight, Gross | 9,706 kg (21,400 lb) |
| Cruising Speed | 253 km/h (157 mph) |
| Max Speed | 270 km/h (168 mph) |
| Rate of Climb | 465 m (1,525 ft) /min |
| Service Ceiling | 4,265 m (14,000 ft) |
| Range | 1,100 km (684 mi) |
| Power Plant | Two T-58-GE-8F, 1,500 shaft hp turbines |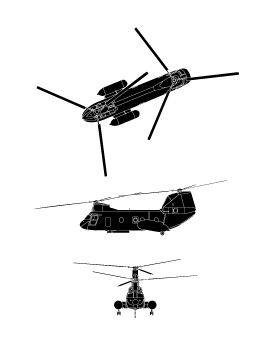 Canada Aviation and Space Museum
Manufacturer
The Boeing Company, Vertol Division
Manufacturer Location
United States
Registration Number
11301