Highlights:
A six-seater utility aircraft designed in the U.S. and built by Bellanca Aircraft Corporation in the late 1920s and early 1930s
Used primarily as a small transport and bush plane: known for its reliability and load-carrying capacity
Six Bellanca CH-300s built by Canadian Vickers Ltd in Montreal were purchased by the RCAF for aerial photography and for use as bush planes
First airplane to use an autopilot in Canada was a Canadian Vickers-made CH-300
First flight was in 1925 (Bellanca WB-1)
Image Gallery:
History:
Bellanca Pacemakers were renowned for their reliability and weight-lifting attributes, which contributed to their successful operation in the Canadian bush. Canadian-operated Bellancas were initially imported from the United States, but later six were built by Canadian Vickers in Montreal and delivered to the RCAF, which used them mainly for aerial photography.
Many long-distance records were set by Bellanca monoplanes. Charles Lindbergh commissioned the Spirit of St. Louis only when he failed to acquire the second prototype Bellanca WB-2. This Bellanca, named Columbia, flew from New York to Germany only two weeks after Lindbergh's famous flight. In 1931, a diesel-powered Bellanca set an unrefuelled endurance record of 84 hours and 33 minutes. A distinguishing feature of all Bellancas was the airfoil shape of the wing struts , which contributed additional lift and stability.
Current Location:
Bush flying Exhibition, Canada Aviation and Space Museum
Provenance:
Purchase
The Museum's aircraft is one of only two surviving Bellanca CH-300/CH-300 Pacemakers in the world. Built in 1929 by Bellanca Aircraft Corporation, it was sold to El Paso Air Service in Texas. Its Wright engine was replaced with a more powerful Pratt & Whitney Wasp Jr. engine in 1945. This CH-300 operated commercially in Texas, Mexico and Alaska almost without interruption between 1929 and 1964. It was still airworthy when the Museum purchased it in 1964, after twenty-eight years of bush flying in Alaska.
Technical Information:
| | |
| --- | --- |
| Wing Span | 14.1 m (46 ft 4 in) |
| Length | 8.5 m (27 ft 9 in) |
| Height | 2.5 m (8 ft 4 in) |
| Weight, Empty | 1,032 kg (2,275 lb) |
| Weight, Gross | 1,847 kg (4,072 lb) |
| Cruising Speed | 177 km/h (110 mph) |
| Max Speed | 225 km/h (140 mph) |
| Rate of Climb | 355 m (1,100 ft) /min |
| Service Ceiling | 5,490 m (18,000 ft) |
| Range | 1,368 km (850 mi) |
| Power Plant | one Pratt & Whitney R-985 Wasp Jr., 450 hp, 9-cylinder radial engine |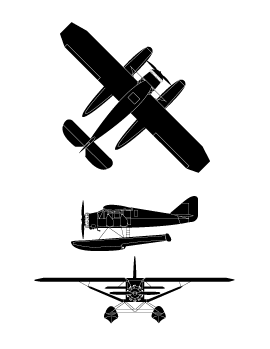 Canada Aviation and Space Museum
Manufacturer
Bellanca Aircraft Corporation
Manufacturer Location
United States
Registration Number
CF-ATN