Highlights:
An American single-rotor utility and training helicopter designed and built by Bell Aircraft Corporation/Bell Helicopter Company from 1945 to 1973
First helicopter certified for civil use and first commercial helicopter to go into service
More than 6,400 were produced by Bell and its licensees around the world
Employed in Canada as early as 1947 by Canada's Photographic Survey Corporation and Carl Agar's Okanagan Air Service
Widely used by U.S. Army in Korean War as H-13 Sioux; featured in M*A*S*H (the film and television series)
Became the first helicopter operated by the Royal Canadian Navy, in August 1951
First flight was in 1945 (Bell 47)
Image Gallery:
History:
In 1946, the Bell 47 became the first helicopter to be licensed for civil operation. In January 1947 it was the first commercial helicopter to be delivered to an operator. Production for civil and military use continued until 1973. The Bell Model 47 performed light helicopter roles such as training, surveying, spraying, transport, search and rescue, and police patrol. It is probably the most successful helicopter ever built, with many still in use until the early 1990s.
The crew sits side-by-side under a large clear-vision bubble at the front of the aircraft. Because these bubbles were "free-blown" no standard shape resulted. The differing bubble-shapes sometimes caused flying characteristics to vary slightly among aircraft. For search and rescue, the HTL-6 was fitted with two external wire-mesh stretcher carriers.
Current Location:
Helicopters Exhibition, Canada Aviation and Space Museum
Provenance:
Transfer from RCN
This HTL-6 helicopter was manufactured by Bell Helicopter in Fort Worth, Texas in 1955, and began service with the Royal Canadian Navy in June of that year. It served with Royal Canadian Navy helicopter squadron HU-21 at the land base HMCS Shearwater in Dartmouth, Nova Scotia, where it performed pilot training and utility operations for the fleet. It later served on the icebreaker HMCS Labrador, which carried out resupply, survey and ice-breaking functions in the Canadian Arctic. It was transferred to the Museum in October 1966.
Technical Information:
| | |
| --- | --- |
| Rotor diameter | 10.7 m (35 ft 1 1/2 in) |
| Length | 12.6 m (41 ft 2 1/2 in) |
| Height | 2.9 m (9 ft 6 in) |
| Weight, Empty | 626 kg (1,380 lb) |
| Weight, Gross | 1,066 kg (2,350 lb) |
| Cruising Speed | 124 km/h (77 mph) |
| Max Speed | 145 km/h (90 mph) |
| Rate of Climb | 244m (800 ft) /min |
| Service Ceiling | 3,322 m (10,900 ft) |
| Range | 346 km (215 mi) |
| Crew | two (wartime) |
| Power Plant | one Franklin 6V4-200-C32, 200 hp horizontally opposed 6-cylinder engine |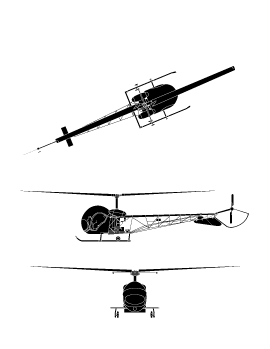 Canada Aviation and Space Museum
Manufacturer
Bell Aircraft Corporation
Manufacturer Location
United States
Registration Number
1387 (RCN)