Highlights:
A jet-powered airliner prototype designed and built by Avro Canada Limited in 1949
First Canadian jet aircraft to fly and the first jet transport in North America
Carried the world's first jet airmail on April 18, 1950, on a Toronto–New York flight that took less than an hour
Only one made: program cancelled when priority was given to the Avro Canada CF-100
Flown and tested by businessman pilot Howard Hughes
Ahead of its time; short to medium range jetliners did not go into service until 1959 (Caravelle)
First flight was on August 10th, 1949
Image Gallery:
History:
The Jetliner was designed to meet a Trans-Canada Air Lines requirement. It was the first jet transport to fly in North America and the second to fly in the world, 13 days after the flight of the de Havilland 106 Comet. Although somewhat short in range, the design's great potential was never realized. Further development was stopped by the federal government in 1951 in order to force the company to concentrate on the CF-100 jet fighter. Only one Jetliner was built.
Howard Hughes personally tested the Jetliner for his airline, flying it from his private airfield at Culver City in California. Little was known about jet engines in their early days. An airport manager in New York City insisted that the Jetliner park away from the terminal and had pans placed under the "fire-spitting" engines to catch any dangerous drippings.
Current Location:
Reserve Hangar, Canada Aviation and Space Museum
Provenance:
Donation from Avro Canada
The Jetliner was manufactured by Avro Canada Limited in Malton, Ontario in 1949. This prototype aircraft first flew in August 1949, and was demonstrated in Canada and the United States. On one such test flight in April 1950, the Jetliner flew from Toronto to New York, landing to much fanfare and attention from the American press after carrying the world's first jet airmail. However, it never carried paying passengers.
In December 1951 development of the Jetliner program was stopped. Despite this, Avro Canada continued to fly the Jetliner for some time.
In 1956 Avro Canada offered the aircraft to the National Research Council (NRC) in Ottawa for research. Only the aircraft's nose and some engines were kept, due to lack of space. The rest of the aircraft was sold for scrap. The main wheels ended up on a farm wagon and the autopilot was used for many years in a Douglas DC-3.
The Museum now holds the nose section of the C-102 Jetliner prototype. It was donated to the Museum by the NRC around 1967.
Technical Information:
| | |
| --- | --- |
| Wing Span | 29.9 m (98 ft 1 in) |
| Length | 25.1 m (82 ft 5 in) |
| Height | 8.1 m (26 ft 5 1/2 in) |
| Weight, Empty | 16,783 kg (37,000 lb) |
| Weight, Gross | 29,484 kg (65,000 lb) |
| Cruising Speed | 676 km/h (420 mph) |
| Max Speed | 805 km/h (500 mph) |
| Rate of Climb | 677 m (2,220 ft) /min |
| Service Ceiling | 12,283 m (40,300 ft) |
| Range | Unknown |
| Crew | three |
| Power Plant | four Rolls-Royce Derwent 5/17, 1,633 kg (3,600 lb) static thrust, centrifugal flow turbojet engines |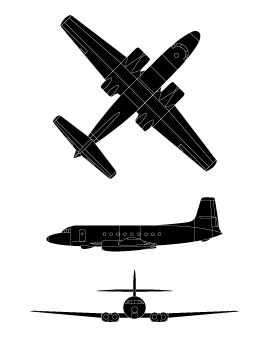 Canada Aviation and Space Museum
Manufacturer
A.V. Roe Canada Ltd.
Manufacturer Location
Canada
Registration Number
CF-EJD-X