Highlights:
A two-seater biplane designed and built in the U.K. by A.V. Roe and Company Limited (Avro) during the 1920s and 1930s
Originally built as a light recreational aircraft, it was also used as a trainer by civil pilots and some Commonwealth air forces
Like the de Havilland D.H.60 Moth, used primarily by private owners, civil operators and flying clubs
Flown in January 1929 by W. R. "Wop" May in his historic Edmonton to Fort Vermilion (Alberta) flight to deliver diphtheria antitoxin
First flight was in 1926 (Avro 581)
Image Gallery:
History:
Originally built as a light sporting aircraft, the Avro Avian was also useful as a trainer to civil operators and some Commonwealth air forces. In Canada, civil Avians were used by many flying clubs and bush operators, while the 30 or so supplied to the RCAF were flown little and used mainly as instructional airframes or passed on to flying clubs. Thirty-nine Avian IVMs were assembled by the Ottawa Car Manufacturing Co.
W.R.(Wop) May made an historic mid-winter flight in an Avian to deliver diphtheria anti-toxin to Fort Vermillion, Alberta, from Edmonton in 1929. Unlike earlier Avians, whose fuselages were constructed of wood, the IVM's fuselage is made of steel tube. The "M" in the designation stands for "Metal". Most of the components used in Canadian-assembled Avians were manufactured in England, but some of the wing and tail surfaces were made by the Ottawa Car Manufacturing Co.
Current Location:
General Aviation Exhibition, Canada Aviation and Space Museum
Provenance:
Donation from C.Graffo
The Museum's Avro Avian was delivered from the U.K. to the RCAF in April 1930. The Department of National Defence transferred it to the Moose Jaw Flying Club in 1932. Ownership went to the Winnipeg Flying Club in 1935 and, in 1937, to a private individual. The aircraft was in storage during the Second World War, after which it was sold to Charles Graffo, who then bequeathed it to the Museum in 1968.
Technical Information:
| | |
| --- | --- |
| Wing Span | 8.5 m (28 ft) |
| Length | 7.4 m (24 ft 3 in) |
| Height | 2.6 m (8 ft 6 in) |
| Weight, Empty | 454 kg (1,000 lb) |
| Weight, Gross | 726 kg (1,600 lb) |
| Cruising Speed | 137 km/h (85 mph) |
| Max Speed | 160 km/h (100 mph) |
| Rate of Climb | 229 m (750 ft) /min |
| Service Ceiling | 3,810 m (12,500 ft) |
| Range | 644 km (400 mi) |
| Crew | two |
| Power Plant | one Armstrong Siddeley Genet Major, 100-hp, air-cooled, 7 cylinder radial engine. |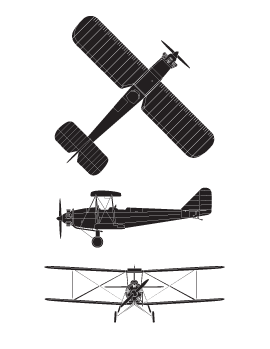 Canada Aviation and Space Museum
Manufacturer
Ottawa Car Manufacturing Co.
Manufacturer Location
Ottawa, Canada
Registration Number
CF-CDQ