Highlights:
A British twin-engine, adaptable aircraft designed by A.V. Roe and Company (Avro) and produced from 1936 to 1952
Known as "Faithful Annie" due to its strength, stability and reliability
Used as a multi-engine trainer under the British Commonwealth Air Training Plan in Canada during the Second World War; also used after the war, outside Canada
Anson manufacturing expanded to Canada after the fall of France in 1940; Canadian companies produced a total of 2,882 Ansons
By production's end in 1952, it had thirteen variants; 11,020 Ansons were built in the U.K. and Canada: production ranked second-highest among British multi-engine Second World War aircraft
Moulded plywood fuselage of Anson V enhanced performance and made it relatively draft-free (a key factor in the Canadian climate)
First flight was in January 1935 (Anson I)
Image Gallery:
History:
The original three Ansons were built to civil specifications. The design was then modified for RAF use on coastal patrols. Early in Second World War, the Anson was selected as the standard twin-engine aircrew trainer for the British Commonwealth Air Training Plan. To ensure availability, a production line was set up in Canada. By 1943 Canadian modifications resulted in the Anson V. Canada built 2  880 Ansons. After the war, Ansons continued in civilian use as light transports.
Stable, strong, and reliable, it was known as "faithful Annie". After a crash 565 km (350 mi) north of Edmonton, an Anson was flown out with almost 3 metres (10 ft) removed from each wing to even up the damage. Needing full power to fly, it ran out of fuel and landed on the frozen Athabasca River. The pilot temporarily lost his licence, but saved the Anson.
Current Location:
British Commonwealth Air Training Plan Exhibition, Canada Aviation and Space Museum
Provenance:
Transfer from the Royal Canadian Air Force
This Anson V was one of 748 manufactured by MacDonald Brothers Aircraft Limited in Winnipeg, Manitoba. Built in 1945, it was accepted by the RCAF in June of the same year. It served with Air Transport Command from 1948 to 1952 and at the Central Experimental and Proving Establishment from 1952 to 1954. The RCAF stored the aircraft until 1964, when it was selected for preservation and transferred to the Museum.
Technical Information:
The Anson V featured a unique moulded-plywood fuselage which replaced the fabric-covered fuselage of earlier models. The smooth contours of the new fuselage enhanced performance and made the aircraft relatively draft-free, an important factor in the Canadian climate. The all-wood Anson was popular for magnetic surveys in Canada's north.
| | |
| --- | --- |
| Wing Span | 17.2 m (56 ft 6 in) |
| Length | 12.9 m (42 ft 3 in) |
| Height | 4 m (13 ft 1 in) |
| Weight, Empty | 3,035 kg (6,693 lb) |
| Weight, Gross | 4,207 kg (9,275 lb) |
| Cruising Speed | 280 km/h (174 mph) |
| Max Speed | 306 km/h (190 mph) |
| Rate of Climb | 2,440 m (8,000 ft) / 9 min 15sec |
| Service Ceiling | 6,260 m (20,550 ft) |
| Range | 864 km (537 mi) |
| Crew | six (aircrew training version) |
| Power Plant | two Pratt and Whitney R985-AN-14B Wasp Jr., 450-hp 9-cylinder radial engines |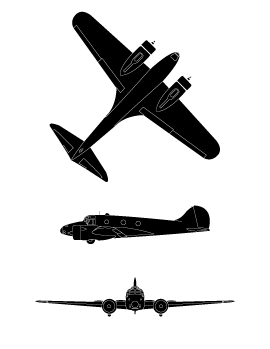 Canada Aviation and Space Museum
Manufacturer
MacDonald Bros. Aircraft Ltd.
Manufacturer Location
Canada
Registration Number
12518 (RCAF)