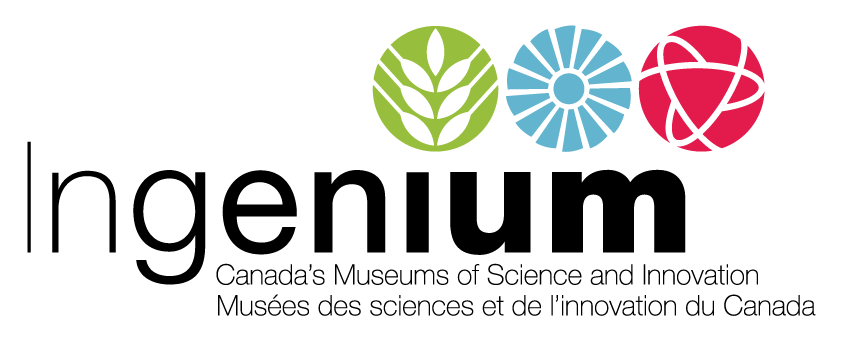 OTTAWA — December 11, 2017 — What do you get when you combine 14 interactive exhibits, one brand new Science and Technology Museum, six 3-D printers and a 60-second lesson in quantum computing? You get one festival, nine days, 150 years in the making — and it all starts in Ottawa this Saturday, December 9.
Innovation Festival: Ottawa is brought to you by Innovation150 and Ingenium – Canada's Museums of Science and Innovation. Ingenium's newly redesigned Canada Science and Technology Museum will be home to many Festival activities, including the Power of Ideas exhibition, Actua's Maker Mobile and QUANTUM: The Exhibition to name a few. The fifth and final Innovation Festival for the Innovation150 organization, this one will focus each of the elements that have been travelling the country throughout 2017.
Starting December 9, the Power of Ideas exhibition will be showcasing the process of science to visitors. Actua's Maker Mobile will also be there December 9 to 11, engaging participants in science, technology, engineering, and mathematics (STEM). QUANTUM: The Exhibition will open to all beginning December 14. This immersive exhibition will explore how researchers are merging quantum mechanics and information technology to create the technologies that will revolutionize and redefine the 21st century – and how many Canadian researchers are leading the way.
Visit innovation150.ca/festival/innovation-festival-ottawa to find more information on festival events.
"We are thrilled to host the Innovation Festival at the brand new Canada Science and Technology Museum," says Fern Proulx, Interim President and CEO of Ingenium – Canada's Museums of Science and Innovation. "The Innovation Festival is the perfect complement to the Museum's new interactive exhibitions that explore the creativity and human ingenuity driving scientific and technological discovery."
INNOVATION150 – BY THE NUMBERS
5 Major Innovation Festivals
180+ Communities Reached
2 Travelling Exhibitions
100,000+ Power of Ideas exhibition attendees
2.4+ million online clicks, shares, and likes
Every Province and Territory
795 Innovation Stories
140,000+ Visitors through QUANTUM: The Exhibition
See the Innovation150 Highlight Video here: https://www.youtube.com/watch?v=qVzMtjZswhI&feature=youtu.be
Innovation150 is the collaborative effort of five of Canada's leading science outreach organizations: Perimeter Institute, Actua, Institute for Quantum Computing at the University of Waterloo, Canadian Association of Science Centres, and Ingenium – Canada's Museums of Science and Innovation.
ABOUT INNOVATION150 PARTNERS
About Perimeter Institute
Perimeter Institute is the world's largest research hub devoted to theoretical physics. The independent Institute was founded in 1999 to foster breakthroughs in the fundamental understanding of our universe, from the smallest particles to the entire cosmos. Research at Perimeter is motivated by the understanding that fundamental science advances human knowledge and catalyzes innovation, and that today's theoretical physics is tomorrow's technology. Located in the Region of Waterloo, the not-for-profit Institute is a unique public-private endeavour, including the Governments of Ontario and Canada, that enables cutting-edge research, trains the next generation of scientific pioneers, and shares the power of physics through award-winning educational outreach and public engagement. Find out more at perimeterinstitute.ca.
About Actua
A​ctua is Canada's leading science, technology, engineering and mathematics (STEM) youth outreach network representing 35 university and college based members. Over 3 million young Canadians have been inspired through their participation in Actua's hands on educational workshops, camps and community outreach initiatives. Each year, Actua's growing network of member organizations reach over 250,000 young Canadians in over 500 communities nationwide. At the national level Actua focuses on the engagement of underrepresented audiences through specialized programs for Indigenous youth, girls and young women, at-risk youth and youth living in Northern and remote communities. Actua's major funders include: Google Canada, Suncor Energy Foundation, GE Canada and the Natural Sciences and Engineering Research Council of Canada. For more information about Actua, visit actua.ca.
About the Institute for Quantum Computing at the University of Waterloo
The Institute for Quantum Computing (IQC) is a world-leading research centre in quantum information science and technology at the University of Waterloo. IQC's mission is to develop and advance quantum information science and technology through interdisciplinary collaboration at the highest international level. Enabled by IQC's unique infrastructure, the world's top experimentalists and theorists are making powerful new advances in fields spanning quantum computing, communications, sensors and materials. IQC's award-winning outreach opportunities foster scientific curiosity and discovery among students, teachers and the community. uwaterloo.ca/institute-for-quantum-computing
University of Waterloo is Canada's top innovation university. With more than 36,000 students we are home to the world's largest co-operative education system of its kind. Our unmatched entrepreneurial culture, combined with an intensive focus on research, powers one of the top innovation hubs in the world. Find out more at uwaterloo.ca.
About the Canadian Association of Science Centres
The Canadian Association of Science Centres (CASC) is a national platform for Canada's Science Centres and informal science engagement. Founded in 1985, the association was created with a goal to create synergy among Canada's science centres and science-related museums, to assist in finding solutions to the challenges faced by these important public institutions, and to provide a single voice before government. The association provides professional development and networking opportunities for the more than 2,000 science communications, support professionals and 10,000 volunteers across Canada. CASC represents 50 members across Canada that collectively attract an estimated 8 million visitors each year through direct visits, outreach, curriculum-linked school programs, lectures and adult-only events. For more information, visit canadiansciencecentres.ca.
About Ingenium – Canada's Museums of Science and Innovation
Launched in June 2017, Ingenium is a new national brand established to preserve and share Canada's story of scientific and technological heritage. This corporate brand, which celebrates ingenuity, encompasses three national institutions — the Canada Agriculture and Food Museum, the Canada Aviation and Space Museum, and the Canada Science and Technology Museum. Under the Ingenium brand, these three museums are places where the past meets the future, with spaces where visitors can learn and explore, play and discover. Ingenium also has an eye to the future with a state-of-the-art Collections Conservation Centre, digital and social media platforms, and travelling national and international exhibitions to educate, entertain, and engage audiences across Canada and around the world. For more information, visit IngeniumCanada.org.
MEDIA CONTACT:
RJ Taylor
Innovation150 & Perimeter Institute
rtaylor@perimeterinstitute.ca
226-338-6967
A CANADA 150 SIGNATURE INITIATIVE