Highlights:
Soviet jet fighter-interceptor aircraft designed by Mikoyan-Gurevich, and produced between 1948 and 1961 in the Soviet Union, Czechoslovakia, Poland, and China
Engine based on Rolls-Royce Nene turbojet engine
Flown by Soviet, Chinese, and North Korean pilots during the Korean War
High performance came as a shock to Western countries; United States offered $100,000 reward and political asylum to MiG-15 pilots who defected
Approximately 16,000 MiG-15s were built, serving with almost 40 air forces
Two-seater training version very successful
First flight was on December 30, 1948 (MiG-15)
History:
The MiG-15 is one of the great fighter aircraft in history. Its appearance over Korea in late 1950 shattered the complacency of Western air forces that, until then, had dismissed Soviet fighters as second rate. Designed to meet a 1946 specification for a daytime bomber interceptor, the MiG-15 was the Soviet Union's first operational swept wing aircraft. Its engine was based on the Rolls-Royce Nene turbojet.
Deliveries began in the winter of 1949 but early aircraft soon revealed various minor deficiencies that were corrected in the more powerful and robust MiG-15bis. By the time production ended, some 16 000 MiG-15s of all types had been built in the Soviet Union, Czechoslovakia, Poland and China. They served in almost forty countries.
Current Location:
Jet Age Exhibition, Canada Aviation and Space Museum
Provenance:
Exchange from Polish private collector
This Lim-2 was manufactured by WSK Mielec, Poland in 1954. It was used by various units of the Polish Air Force, then purchased by a Polish private collector. The Museum acquired the aircraft through exchange with the collector in 1998. The Lim-2 was delivered to Canada in two Canadian Forces Lockheed CC-130 Hercules transport aircraft in mid-1998.
Technical Information:
| | |
| --- | --- |
| Wing Span | 10 m (33 ft 1 in) |
| Length | 10 m (33 ft 1 3/4 in) |
| Height | 3.7 m (12 ft 1 2/3 in) |
| Weight, Empty | 3,680 kg (8,114 lb) |
| Weight, Gross | 5,508 kg (12,145 lb) |
| Cruising Speed | Unknown |
| Max Speed | 1,107 km/h (688 mph) |
| Rate of Climb | 10,000 m (32,810 ft) / 4.9 min |
| Service Ceiling | 15,500 m (50,850 ft) |
| Range | 1,130 km (700 mi) |
| Power Plant | One Klimov VK- 1 jet engine, 2,700 kg (5,955 lb) static thrust |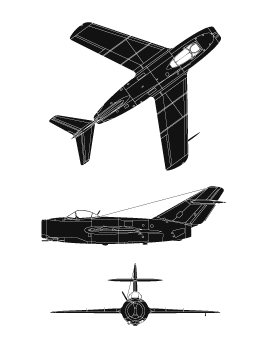 Canada Aviation and Space Museum
Manufacturer Location
Poland