Highlights:
A British single-engine observation aircraft developed by Westland Aircraft Limited and produced from 1938 to 1942
Named after Spartan general Lysander, it was also known as "Lizzie"
Short-take-off-and-landing (STOL) capabilities meant it could operate from unprepared fields
Obsolete by 1940, it was replaced by fighter planes used in a reconnaissance role
Built in Canada by National Steel Car Corporation (Malton, Ontario) for the RCAF; initially used for observation, then by bombing and gunnery schools
Delivered over a hundred agents into occupied Europe on night missions, using fields as runways
Postwar, it did not see civilian use, with the exception of the few used as crop-dusters in Western Canada
First flight was in June 1936
Image Gallery:
History:
The Lysander was built to a specification calling for a rugged, short-take-off-and-landing (STOL) aircraft for low-level reconnaissance and observation. Unfortunately the specification had been drawn up with First World War in mind. However excellent an airplane, the Lysander proved too vulnerable to survive modern warfare. After 1940, British Lysanders were used for search-and-rescue, and unusual missions such as flying spies in and out of the continent. Canadian-built Lysanders were used chiefly as target tugs at Canadian bombing and gunnery schools.
Called the "Lizzie", the Lysander was a remarkable flying machine with excellent low-speed capabilities. A Lizzie drifting backward over the airfield as it flew slowly into a headwind was a remarkable sight at Canadian training bases. Spy delivery and pick-up flights were hazardous affairs during which jet-black Lizzies flew with ladders fixed outside and with the rear cockpits jammed with operatives. Landings took place at night in open country inside France or Belgium on improvised landing areas lit by flashlights held, it was hoped, by members of the resistance.
Current Location:
Second World War Exhibition, Canada Aviation and Space Museum
Provenance:
Donation from the Canadian Air Force
The Museum's aircraft was made using parts of three Lysanders. It was built as a centennial project by the RCAF at Winnipeg, Manitoba. The exact identity of the three aircraft is uncertain, but it is known that the fuselage was manufactured by Westland Aircraft Limited in Yeovil, United Kingdom and the wings by National Steel Car Corporation in Malton, Ontario. The composite aircraft was finished in the markings of a Lysander I serving with No. 110 Squadron RCAF in England in 1940.
This Lysander was first flown on December 29, 1967 by project officer Captain Bernie Lapointe. It was used for several demonstrations in Western and Central Canada before being flown to Rockcliffe airport. It was donated to the Museum in September 1968 and was last flown in October 1970.
Technical Information:
| | |
| --- | --- |
| Wing Span | 15.2 m (50 ft) |
| Length | 9.3 m (30 ft 6 in) |
| Height | 3.5 m (11 ft 6 in) |
| Weight, Empty | 2,118 kg (4,670 lb) |
| Weight, Gross | 2,766 kg (6,100 lb) |
| Cruising Speed | 274 km/h (170 mph) |
| Max Speed | 350 km/h (217 mph) |
| Rate of Climb | 6,100 m (20,000 ft) / 21.7 min |
| Service Ceiling | 7,270 m (23,850 ft) |
| Range | 966 m (600 mi) |
| Power Plant | one Bristol Mercury XX, 870 hp, radial engine |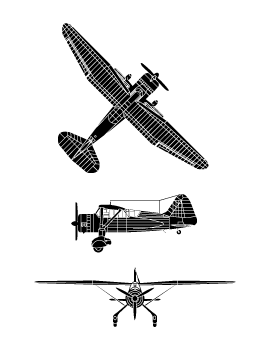 Canada Aviation and Space Museum
Manufacturer
Westland Aircraft Ltd.
Manufacturer Location
Great Britain
Manufacture Date
1967 (Rebuilt)
Registration Number
R9003 (RAF)