Highlights:
A three-seater, open-cockpit, general-purpose biplane built by the Travel Air Manufacturing Company of Wichita, Kansas from 1927 to 1930
Travel Air Manufacturing was founded by Walter Beech, Clyde Cessna and Lloyd Stearman
Known as "old elephant ears" because of its balanced ailerons
Frequently represented Fokker D.VIIs in First World War flying films because of a superficial resemblance (which earned it the name "Wichita Fokker")
Purchased by Walter M. Lowney Company, a Montreal chocolate-maker, it was an early example of a Canadian business aircraft
Very similar to the Waco 10
First flight was in March 1925 (model 1000)
Image Gallery:
History:
The first production Travel Air B established such a good reputation in the First National (Ford) Air Tour in 1925 that the company sold nineteen the same year. In 1928 the model B was designated the Model 2000. Orders increased until 1930, when Model 2000 production ceased, with 1 550 built.
In Canada the Travel Air was used for training and some charter work. One was used as a corporate aircraft by the Walter M. Lowney Co. Because of their classic design, many Model 2000s have been restored and are still flying.
It is not surprising that the Travel Air was a good airplane considering that Walter Beech, Clyde Cessna, and Lloyd Stearman were all involved in its design and production. Because of a superficial resemblance to Fokker D.VIIs, Travel Airs frequently represented Fokkers in the First World War flying films of the 1920s and 1930s, earning them the nickname "Wichita Fokker".
Current Location:
General Aviation Exhibition, Canada Aviation and Space Museum
Provenance:
Purchase
This Travel Air 2000 was manufactured in 1929 and was purchased, along with another 2000, in September of that year by Janney Aircraft and Boats Limited of Kingston, Ontario. The company's owner, Ernest Lloyd Janney, had been commander of Canada's first air force, the Canadian Aviation Corps. Legend has it that Janney flew one of his 2000s over the main streets of Kingston, barely clearing the rooftops. A painting by Canadian artist Don Connolly portrays the Museum's 2000 in this story.
In 1930, the 2000 was acquired by Hamilton's J. Aspden, who rebuilt it. It had a few other private owners before it was withdrawn from use in July 1941 due to wartime restrictions.
Strangely - and apparently without being reported to the proper authorities - the aircraft's original 90 hp OX-5 engine was at some point replaced by a 100 hp Curtiss OXX-6 engine.
In 1958, the 2000 was purchased by Keith Hopkinson of Goderich, Ontario; in September 1968, Mrs. K. G. Hopkinson sold it to the Museum. Conservation staff restored the aircraft between 1999 and 2010.
Technical Information:
| | |
| --- | --- |
| Wing Span | 10.6 m (34 ft 8 in) |
| Length | 7.4 m (24 ft 2 in) |
| Height | 2.7 m (8 ft 11 in) |
| Weight, Empty | 605 kg (1,335 lb) |
| Weight, Gross | 989 kg (2,180 lb) |
| Cruising Speed | 137 km/h (85 mph) |
| Max Speed | 160 km/h (100 mph) |
| Rate of Climb | 158 m (520 ft) /min |
| Service Ceiling | 3,050 m (10,000 ft) |
| Range | 805 km (500 mi) |
| Power Plant | one Curtiss OXX-6, 100 hp, Vee engine |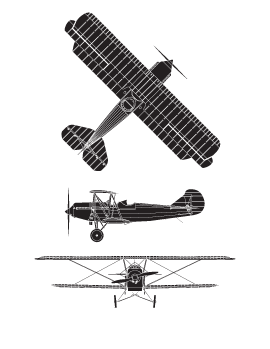 Canada Aviation and Space Museum
Manufacturer
Travel Air Manufacturing Company
Manufacturer Location
United States
Registration Number
CF-AFG