Highlights:
A single-engine, two-seater, private aircraft manufactured in the U.S. by Taylorcraft Aviation between 1938 and 1941
Designed (like other B models) for private buyers; also popular with the U.S. Civilian Pilot Training Program flying schools
A derivative served as observation aircraft for the U.S. Army Air Forces during the Second World War
Taylor Brothers Aircraft, as the company was first known, was one of many manufacturers formed after Charles Lindbergh's famous 1927 transatlantic flight
The company built small, two-seater, high-wing monoplanes instead of the more common open-cockpit biplanes available for private use
British subsidiary Taylorcraft Aeroplanes was founded in 1939, eventually becoming Auster Aircraft
In 2010, about 240 Taylorcraft (various types) and 10 Austers were listed in the Canadian civil aircraft register
First flight was in 1939
Image Gallery:
History:
Charles G. Taylor was an aircraft builder who was instrumental in establishing the light aircraft industry in the United States during the 1930s. He built simple, safe and inexpensive high-wing monoplanes that were a departure from the standard open-cockpit biplanes then available to private pilots.
Following bankruptcy, Taylor's first company was purchased by W.T. "Bill" Piper. The Piper Cub evolved from Taylor's earlier design, the Taylor Cub. By 1936, other firms such as Aeronca, Luscombe, Stinson and Cessna had also developed light, high-wing monoplanes. Ending his association with Bill Piper that year, Taylor formed the Taylorcraft Aviation Company and continued to design and manufacture successful light aircraft.
Taylor believed that a properly designed aircraft with side by side seating could perform as well as a narrow tandem-seated design. A series of Taylorcraft models followed, including the Model BC-65 that utilized the new Continental 65-hp engine.
Current Location:
Reserve Hangar, Canada Aviation and Space Museum
Provenance:
Donation
This aircraft was built in 1939 and imported the same year by one of Canada's most famous general aviation companies, the Toronto-based Leavens Brothers Air Services. The company was formed in 1927 by three barnstorming brothers from Belleville, Ontario who travelled across Canada offering rides to more than 60,000 passengers over the course of ten years. Then, working out of Barker Airport, Toronto, the company offered flying lessons, sales and aircraft repairs. This aircraft may have been used in the flying school. In 1947, it was sold to a private owner and it then passed through the hands of twelve other owners before it was bought by Harry Drover of Collingwood, Ontario in the 1990s. Drover restored and flew the aircraft until 1999, when he donated it to the Museum.
Technical Information:
| | |
| --- | --- |
| Wing Span | 11 m (36 ft) |
| Length | 6.7 m (22 ft) |
| Height | 2 m (6 ft 8 in) |
| Weight, Empty | 290 kg (640 lb) |
| Weight, Gross | 522 kg (1,150 lb) |
| Cruising Speed | 150 km/h (95 mph) |
| Max Speed | 170 km/h (105 mph) |
| Rate of Climb | 180 m (600 ft) /min |
| Service Ceiling | 4,570 m (15,000 ft) |
| Range | 400 km(250 mi) |
| Power Plant | One Continental A-65, 65 hp, horizontally opposed |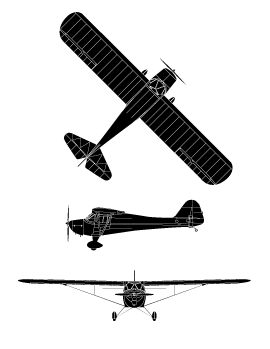 Canada Aviation and Space Museum
Manufacturer
Taylorcraft Aviation Company
Manufacturer Location
United States
Registration Number
CF-BPR