Highlights:
An American-made two-seater tandem, light airplane designed and built by Taylor Aircraft Co. between 1930 and 1934, following the success of the Aeronca C-2
Three E-2 Cubs were imported into Canada before the Second World War, and two after the war
Beginning of a long and broad family of airplanes known as the Cub, including the Piper J-3, one of the best-known light airplanes
Extremely popular for private flying and instruction in North America
Cub Aircraft Ltd. was formed in Hamilton, Ontario in 1936, to sell and service Cubs
Starting in 1945, Cub Aircraft Ltd. manufactured 128 J-3s and 17 Prospectors, a J-3 modified for bush flying
First flight was in September 1930 (E-2 prototype)
Image Gallery:
History:
The success of the Aeronca C-2 prompted the Taylor Aircraft Company to introduce a new light airplane design, the E-2 Cub. The company became the Piper Aircraft Company in 1937. The Cub proved popular for both private flying and instruction. Just under 350 were made when production ceased in 1936. The E-2 led to an improved version, the Taylor J-2 Cub, in 1935, and to the famous Piper J-3 Cub in 1937. Three E-2 Cubs were imported into Canada before Second World War and two after the war.
In its various forms the Cub was one of the best known aircraft ever built. For a great number of people, the name "Cub" is still synonymous with light aircraft.
Current Location:
Reserve Hangar, Canada Aviation and Space Museum
Provenance:
Exchange
This E-2 was built by the Taylor Aircraft Co. in August 1935 and registered to its first owner, Gordon Curtis of New York City, on September 6. It had four more owners before going in 1940 to the Choate School, a boys preparatory school at Wallingford, Connecticut, where it was used for ground instruction.
In 1975, Garth Elliot of Toronto bought the aircraft and meticulously restored it with the assistance of Max Say and the co-operation of Frank Shaineline and D.J. (Dick) Berg of the Department of Transport. During this time, the wings were destroyed by fire and a new set was obtained in Ohio. The Cub was first flown in Canada on July 30, 1980.
The Museum exchanged an unrestored E-2 for this aircraft in June 1985, so that an E-2 could be displayed in the Museum's new building.
Technical Information:
| | |
| --- | --- |
| Wing Span | 10.7 m (35 ft 3 in) |
| Length | 6.8 m (22 ft 3 in) |
| Height | 2 m (6 ft 6 in) |
| Weight, Empty | 238 kg (525 lb) |
| Weight, Gross | 420 kg (925 lb) |
| Cruising Speed | 105 km/h (65 mph) |
| Max Speed | 126 km/h (78 mph) |
| Rate of Climb | 137 m (450 ft) /min |
| Service Ceiling | 3,660 m (12,000 ft) |
| Range | 354 km (220 mi) |
| Power Plant | one Continental A-40-4, 40 hp, horizontally opposed engine |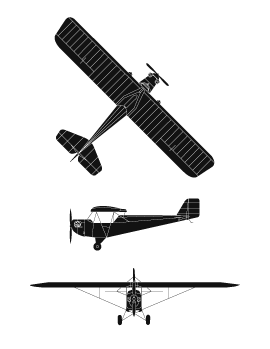 Canada Aviation and Space Museum
Manufacturer
Taylor Aircraft Company Inc.
Manufacturer Location
United States
Registration Number
C-GCGE