Highlights:
A British single-seater fighter designed and produced by the Supermarine division of Vickers-Armstrong Limited from 1938 to 1948
Canadian aerodynamicist Beverley Shenstone (co-designer of the Harbinger sailplane) contributed to its design
Flown by many Allied air forces during the Second World War
Served on all fronts as an interceptor, photo reconnaissance airplane, fighter bomber and carrier-based fighter
Over 20,000 were built in twenty-four versions, each employed increasingly powerful Rolls-Royce Merlin or Griffon engines
Achieved legendary status during the Battle of Britain, fighting the Messerschmitt Bf 109
Flown by George Beurling (the most successful Canadian fighter pilot of the Second World War), who scored twenty-seven victories in two weeks over Malta
First flight was on March 6th 1936 (prototype)
Image Gallery:
History:
The Spitfire IIB was a modification of the Spitfire I with a more powerful engine and factory-installed armour plate. Some early Mk. IIs participated in the Battle of Britain but this version was used mainly in the initial offensive sweeps over Europe until superseded by the Mk. V. It is finished in its original presentation markings.
Among the most famous aircraft of all time, the Spitfire began operations before Second World War and was one of the few pre-war types to remain in first-line service until the end of the war and beyond. As the war progressed, the Spitfire received heavier armament and more powerful engines until it was twice as heavy and powerful as the original mark. In all, 21 554 were built in 24 different versions, including some 1 220 Seafires fitted for aircraft carrier operation.
Current Location:
On loan to the Canadian War Museum
Provenance:
Transfer from the Canadian Armed Forces
This Spitfire was manufactured by the Supermarine division of Vickers-Armstrong Limited at the Castle Bromwich Aircraft Factory in the United Kingdom in 1941. It is the only surviving "presentation Spitfire"; its production costs were paid by the State of Soebang, Dutch East Indies (today's Indonesia). Taken on strength by the RAF in 1941, the aircraft was briefly used for convoy patrols and sweeps over France. Shortly afterwards, it was damaged, repaired in England and then stored.
In 1942 it was transferred to the RCAF and shipped to Canada, where it was displayed in many locations, notably at Toronto City Hall. After the war it was sent to an RCAF training school in Camp Borden, Ontario. Throughout the 1950s and early 1960s, the Spitfire was exhibited at numerous venues, including the Canadian National Exhibition in Toronto and Parliament Hill in Ottawa. It was exhibited on Parliament Hill in Ottawa in September 1960, for example, during Battle of Britain Week. It was made part of the RCAF's historic aircraft collection in 1964.
The Spitfire was transferred to the Museum in 1968. In 1988 it was refinished in the markings of No. 222 Squadron RAF, which it had served in 1941. It has been on loan to the Canadian War Museum since September 1988.
Technical Information:
| | |
| --- | --- |
| Wing Span | 11.2 m (36 ft 10 in) |
| Length | 9.1 m (29 ft 11 in) |
| Height | 3.5 m (11 ft 5 in) |
| Weight, Empty | 2,170 kg (4,783 lb) |
| Weight, Gross | 2,846 kg (6,275 lb) |
| Cruising Speed | Unknown |
| Max Speed | 595 km/h (370 mph) |
| Rate of Climb | 792 m (2,600 ft) /min |
| Service Ceiling | 9,997 m (32,800 ft) |
| Range | 636 km (395 mi) |
| Power Plant | one Rolls-Royce (Packard) Merlin 29, 1,300 hp, V-12 engine (Museum example) |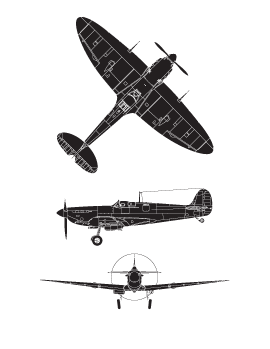 Canada Aviation and Space Museum
Manufacturer
Supermarine Division, Vickers Armstrong Ltd.
Manufacturer Location
Great Britain
Registration Number
P8332 (RAF)