Highlights:
A highly successful U.K.-designed, single-seater fighter used by the Royal Flying Corps and the Royal Naval Air Service during the First World War
Designed as a fighter, it was also a popular training aircraft during and after the war
Nicknamed the "Pup" because it resembled a smaller version of its predecessor, the Sopwith 1½ Strutter
Officially named the "Scout," since authorities did not recognize its nickname
Flown by Squadron Commander E. H. Dunning when he became the first Royal Naval Air Service officer to land on a moving vessel (HMS Furious), in 1917
First flight was in February 1916
Image Gallery:
History:
The Pup was T.O.M. Sopwith's first single-seat fighter. Royal Naval Air Service tests proved very successful and were closely followed by successful Royal Flying Corps tests. The RFC ordered their first Pups in April 1916 with the RNAS following suit in June. Deliveries to the two services began in September and November 1916 respectively. Pups operated through the thick of the fighting in 1917 then were gradually withdrawn to become trainers. Four companies manufactured 1 575 Pups before production stopped in October 1918.
"Pup", the only name ever used for the airplane, was not recognized by the authorities, who had officially named it the "Scout". Many considered it, however, to look like the pup of its larger predecessor, the 1 1/2 Strutter, so the name stuck. The Royal Naval Air Service employed Pups to pioneer the use of floating vessels as a base for flying operations.
Current Location:
Reserve Hangar, Canada Aviation and Space Museum
Provenance:
Purchase
The Museum's Pup is a reproduction built in 1967 by George Neal of Toronto. Manufacture of the Pup took over seven years to complete. First flown by Neal on September 2, 1967, the aircraft was featured in several air shows and fly-ins in the Toronto area before the Museum purchased it in 1973. It was re-covered and finished as Pup B2167, aircraft "L" of No. 66 Squadron RFC. For civil identification it bears the registration CF-RFC.
Technical Information:
| | |
| --- | --- |
| Wing Span | 8.1 m (26 ft 6 in) |
| Length | 5.9 m (19 ft 3 3/4 in) |
| Height | 2.9 m (9 ft 5 in) |
| Weight, Empty | 357 kg (787 lb) |
| Weight, Gross | 556 kg (1,225 lb) |
| Cruising Speed | Unknown |
| Max Speed | 179 km/h (111 mph) |
| Rate of Climb | 1,525 m (5,000 ft) / 6 min 25 sec |
| Service Ceiling | 5,335 m (17,500 ft) |
| Range | 3 hours (Endurance) |
| Power Plant | one Le Rhone 9C, 80 hp, rotary engine |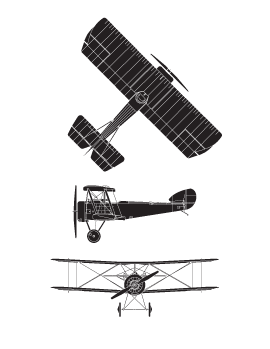 Canada Aviation and Space Museum
Manufacturer
Home-built (George Neal)
Manufacturer Location
Canada
Registration Number
B-2167 (RFC)