Highlights:
A British single-seater fighter aircraft designed by Sopwith Aviation Company during the First World War
Flown by the British, Canadian and Australian air forces
Last British fighter to enter service during the war, it was the most powerful and advanced of the Sopwith rotary-engine aircraft
Flown by Major W. G. Barker (No. 201 Squadron, RAF) of Dauphin, Manitoba in a single-handed air battle that earned him a Victoria Cross
First flight was in 1917
Image Gallery:
History:
The Snipe had a confused history prior to its entry into service. Its early handling problems were not completely solved before beginning squadron operations. Even with 100 hp more power, it was only slightly faster than the Camel which it was designed to replace. Not more than 100 Snipes reached France before the end of First World War. After the war the Snipe was adopted as the standard RAF fighter, and production continued into 1919. A total of 497 were built, with the last not retiring until 1926.
The Snipe is considered to be the ultimate development of the small rotary-engined fighter. While almost as manoeuvrable as the Camel, the Snipe was much less tricky to fly. One of the outstanding single-handed air battles of the war occurred when Major W.G. Barker, a Canadian pilot, fought off a formation of fighters. After shooting down a two-seater, he was set upon by 15 Fokker D.VIIs. Although wounded in both legs and one arm, he managed to destroy three of his opponents before crashing. He survived and was awarded the Victoria Cross. The fuselage of his aircraft, complete with bullet holes, is part of the Canadian War Museum collection.
Current Location:
First World War Exhibition, Canada Aviation and Space Museum
Provenance:
Purchase
The Museum's Snipe was manufactured in 1918 by Nieuport and General Aircraft Limited of England. Details of its RAF history remain unknown, although it probably served abroad, as did most RAF Snipes. Ex-Royal Flying Corps pilot and actor Reginald Denny imported the aircraft to California in 1926, and it was featured in several movies. Jack Canary restored the Snipe between 1953 and 1960.
The Museum purchased the aircraft in 1964. It was the first of the First World War fighters flown by the Museum's chief pilot, Wing Commander Paul A. Hartman. The Snipe was last flown in June 1967 during Centennial celebrations at Rockcliffe by Wing Commander David P. Wightman. Damaged sometime after, it was recovered and had some work done on it in time for the opening of the new Museum building in 1988.
Technical Information:
| | |
| --- | --- |
| Wing Span | 9.5 m (31 ft 1 in) |
| Length | 6 m (19 ft 10 in) |
| Height | 2.9 m (9 ft 6 in) |
| Weight, Empty | 595 kg (1,312 lb) |
| Weight, Gross | 916 kg (2,020 lb) |
| Cruising Speed | Unknown |
| Max Speed | 195 km/h (121 mph) |
| Rate of Climb | 1,980 m (6,500 ft) / 5 min 10 sec |
| Service Ceiling | 5,940 m (19,500 ft) |
| Range | 3 hours (Endurance) |
| Power Plant | one Bentley B.R.2, 230 hp, rotary engine |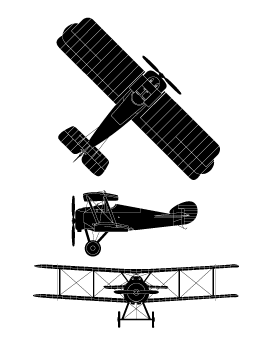 Canada Aviation and Space Museum
Manufacturer
Nieuport & General Aircraft Company Ltd.
Manufacturer Location
Great Britain
Registration Number
E6938 (RAF)