Highlights:
A U.S., four-seater trainer helicopter designed and built by the Sikorsky Aircraft Division of United Aircraft Corporation from 1944 to the mid-1950s; also made by Westland Aircraft
Used primarily by the armed forces of fifteen nations, but was also the first helicopter sold for commercial use
Used in the world's first regular helicopter passenger service, flying from Liverpool to Cardiff in 1950
Rescued downed American pilots in the Korean War
Served as the RCAF's first helicopter; used for training and experiments
Called the Dragonfly in British RAF and RN service
Two accompanied Admiral Richard E. Byrd on his 1946–1947 Antarctic expedition (as the first helicopters to fly in the Antarctic)
First flight was in February 1946
Image Gallery:
History:
The S-51 was an early postwar development of the R-5. Although intended for the civilian market, most S-51s went into military service. They served with all the US military services as well as with the air forces of Australia, Britain, Canada and France. The seven RCAF S-51s were designated H-5. The first helicopters in the RCAF, they were used mainly for training and experimentation, although some did search-and-rescue work. All H-5s were retired by the mid-1960s. The United States built 214, and 165 were made in Britain.
For rescue operations the H-5 could be fitted with external closed stretcher carriers. The US Air Force used S-51s extensively for casualty evacuation and the recovery of downed pilots during the Korean war.
Current Location:
On loan to the National Air Force Museum of Canada
Provenance:
Transfer from the Royal Canadian Air Force
This H-5 was manufactured by the Sikorsky Aircraft Division of United Aircraft Corporation in Bridgeport, Connecticut in 1947. It was the first helicopter built for the RCAF and was taken on strength at Rockcliffe airport on April 5, 1947. The helicopter was assigned to RCAF Trenton, Ontario on training duties until January 1948. It was then transferred to Edmonton, Alberta, where it served with a search-and-rescue unit known as K Flight.
In 1950, the aircraft was returned to Trenton for repair and overhaul. Next it was sent to Rivers, Manitoba in July 1951, to serve with the Canadian Joint Air Training School. In November 1954, the H-5 was moved to Cold Lake, Alberta, where it was used by No. 105 Communications and Rescue Flight, formerly known as K Flight. In 1959, the helicopter was transferred to Chatham, New Brunswick, where it was stored. The RCAF transferred the helicopter to the Museum in 1964.
Technical Information:
| | |
| --- | --- |
| Rotor diameter | 14.9 m (49 ft) |
| Length | 17.6 m (57 ft 8 in) |
| Height | 3.9 m (12 ft 11 in) |
| Weight, Empty | 1,728 kg (3,810 lb) |
| Weight, Gross | 2,495 kg (5,500 lb) |
| Cruising Speed | 137 km/h (85 mph) |
| Max Speed | 166 km/h (103 mph) |
| Rate of Climb | 305 m (1,000 ft) /min |
| Service Ceiling | 4,115 m (13,500 ft) |
| Range | 418 km (260 mi) |
| Power Plant | one Pratt & Whitney R-985 AN-5 Wasp Jr., 450 hp, radial engine |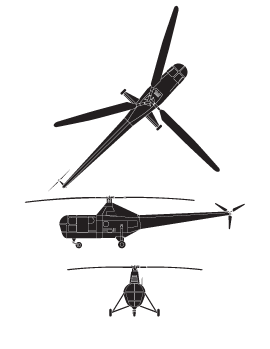 Canada Aviation and Space Museum
Manufacturer
Sikorsky Aircraft Division of United Aircraft Corporation
Manufacturer Location
United States
Registration Number
9601 (RCAF)